A stunning interest rate increase by the Central Bank of Russia to the tune of 10.5% sent the Russian Ruble to a record low on Monday. This move came as the apex bank in Russia is implementing radical measures to combat the effect of unprecedented sanctions on Russia after it invaded Ukraine last week.
The Ruble plummeted to a new record low against the US Dollar, falling by 25.55% against the US Dollar. It recovered some ground on Tuesday, currently trading at 98.84 as of writing. However, the intraday bounce from the 24 February high puts the Ruble back under pressure as the USD/RUB races towards the 100.00 mark. The USD/RUB gained more than 54% in February. 
Several institutional analysts all point to a further weakening of the Ruble as the sanctions bite harder. The central bank says it will resume buying gold on the local market and initiate a no-limit repurchase auction. It also plans to allow banks more freedom in setting foreign currency positions.
USD/RUB Outlook
A break of the 106.4974 is required for the bulls to aim to re-establish contact with 110.50 (all-time high). If this area is broken, then a run to 126.60 or 136.61 (100% and 127.2% Fibonacci extension levels) cannot be ruled out.
On the other hand, a rejection at 106.4974 forms a pinbar, which could enable a corrective move that targets 89.9299 initially, before 86.2505 and 80.1844 come into the picture as additional destinations to the south.
USD/RUB: Daily Chart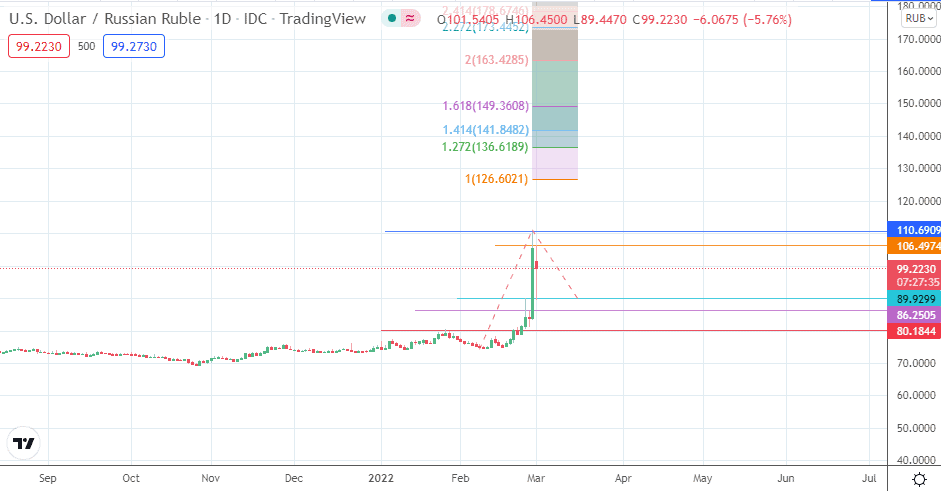 Follow Eno on Twitter.