The Russian ruble has gone nowhere in the past few months after staging a strong recovery in the early days of the war. The USD/RUB was trading at 62.25, where it has been in the past few weeks. This price is about 60% below its highest level this year. Focus now shifts to the upcoming Federal Reserve and Russian Central Bank decisions.
Federal Reserve decision
The USD to RUB exchange rate consolidated on Monday as attention focused on the upcoming Fed decision. The bank will start its two-day meeting on Tuesday and deliver its decision on Wednesday. This will be an important meeting since it will provide more color or set the tone for what the Fed will do in 2023.
The meeting will come a day after the US publishes the latest consumer inflation data. Economists polled by Reuters expect the data to show that the country's inflation pulled back to 7.3% in November as the prices of key items like gasoline and consumer staples dropped. Core inflation is expected to drop to about 6%.
The USD/RUB will not react to the headline Fed decision because a 0.50% hike has already been priced in. Instead, investors will react to the bank's guidance of what it will do in the coming months. Jerome Powell will likely insist that rates will remain high in 2023.
USD/RUB latest news: Russia central bank decision
The other main USD to RUB catalysts will be the latest interest rate decision by the Russian central bank. Economists expect that the bank will maintain status quo by leaving interest rates unchanged at 7.50%. It has not moved rates in the past two meetings straight as the bank attempted to devalue the currency to boost exports.
Bank Rossii initially hiked interest rates to 20% in February after the invasion. Since then, it has made a series of rate cuts after the Russian ruble bounced back. The USDRUB is also reacting to the rebounding crude oil prices as Brent hits $78.4.
USD/RUB forecast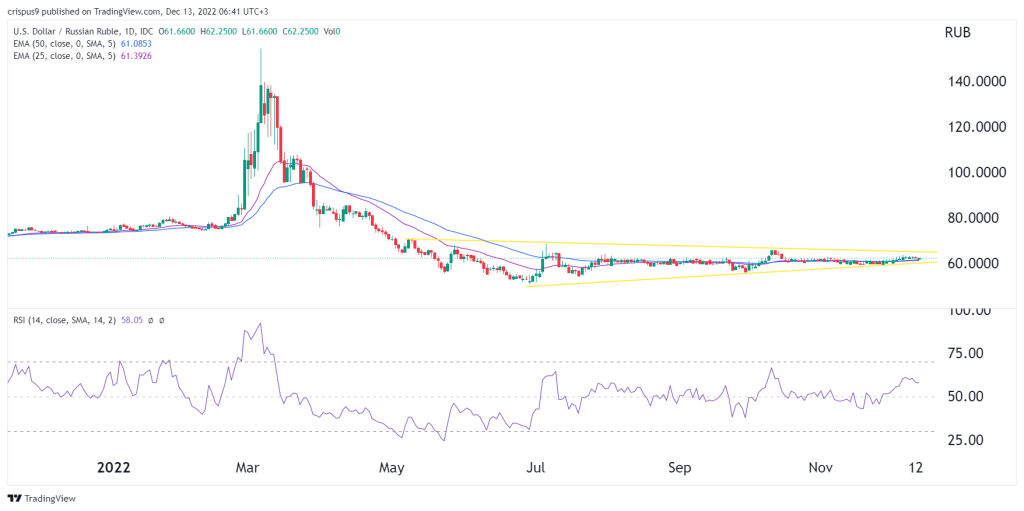 The USD to ruble exchange rate has been in a consolidation phase in the past few days. In this period, the pair is hovering at 62, which is along the 25-day and 50-day moving averages. It has also formed a triangle pattern that is shown in yellow while the Relative Strength Index (RSI) has moved above the neutral point.
Therefore, after staying in a tight range for months, I suspect that the USD/RUB price will have a breakout in the coming days. While it is hard to predict, I believe that it will have a bearish breakout as sellers attempt to retest the lowest level this year at 50.