The Unilever share price has lagged the performance of the FTSE 100 index and its peer companies in the past few months. The ULVR stock is barely moved in the past year while the Footsie has risen by more than 12 months. Similarly, the Vanguard Consumer Staples ETF (VDC) has risen by over 16%. The company's market capitalization has crashed to about $128 billion while Procter & Gamble has soared to over $373 billion.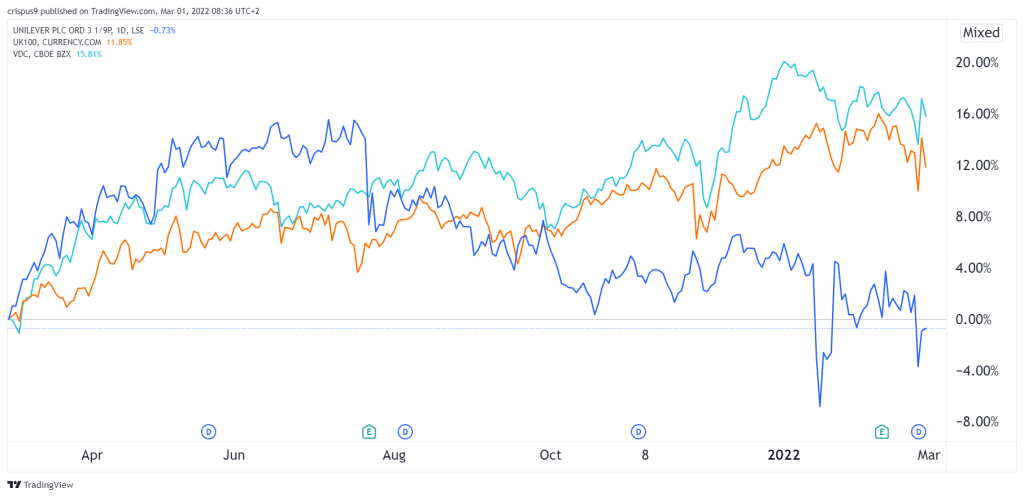 Unilever is a major consumer staples company that offers some of the best-known brands globally. Its brands include Omo, Dove, Sunlight, Vaseline Axe, Knorr among others. In the past few years, these brands have faced stiff competition from other brands, especially from China. It has also struggled as the number of people shopping online continues to increase.
Unilever share price tumbled sharply last month as the company announced plans to acquire the consumer division of GlaxoSmithKline, the leading healthcare company in the UK. The deal was worth over $60 billion, or almost half the company's market cap. It was forced to abandon the acquisition as its investors balked at Unilever's empire building.
In the fourth quarter, Unilever's revenue rose to €52.4 billion, which was a 3.4% gain from the previous year. This growth was significantly lower than that of the broad market and that of Procter & Gamble. Its beauty and personal care business grew by just 3.8% while food and refreshments rose by 5.6%. Home Care revenue rose by 3.9%.
Therefore, with costs rising globally, Unilever will need to find ways to accelerate growth in its business. The company will also need to cut costs across its business. Already, it has hinted that it will cut thousands of jobs around the world. Also, there are calls to break up the company in a bid to realize shareholder value. These talks could accelerate now that Nelson Peltz has announced a stake.
Unilever share price forecast
From a fundamental side, Unilever share price is cheaper compared to its rivals. It has a trailing and forward PE ratios of 18.9 and 20.3, respectively. In contrast, companies like Procter & Gamble and Colgate-Palmolive have multiples that are above 25. The same is true with other companies like Churchill & Dwight and Estee Lauder.
As a result, the company offers a better dividend yield than the other firms. It has a dividend yield of 3.97%, while its peers have a yield of less than 3%. The same is true when you look at the forward multiple. This signals that the stock could be a good holding for value investors.
Turning to the daily chart, we see that the ULVR share price has been attempting to bounce back in the past few days. It has already risen by more than 8.62% from its lowest level this year although it remains below the 25-day and 50-day moving averages. Therefore, a clear bullish trend has not emerged yet, meaning that the shares will likely remain under water for a while.