The TRX price is like a coiled spring ready to explode as the market counts down to Tomorrow's hotly-anticipated announcement. TRON (TRX) holders are salivating after founder Justin Sun promised to announce a game-changing development. What that is, we don't know, but according to Sun, it's going to be impressive.
Sun's tweets have set Twitter alight with hopium. The comments are littered with bullish replies asking if TRON will go to $1.00? Or if they should buy TRX now etc. The answer is, no one knows. If the announcement is as groundbreaking as Sun is making out, then sure, the TRX price will likely go higher. However, let's not forget what just happened to Cardano (ADA).
Ahead of the Alonzo upgrade, the price was trending higher, making ADA one of the best-performing cryptos. At the start of the month. The ADA price was trading at $3.16, more than three times the July low. However, a week later, Cardano was below $2.00 before bouncing to $2.50. Furthermore, even the successful launch of smart contracts on September 12th has done little to the price in the last few days. Therefore, even though the chances are that what comes tomorrow will be bullish, there is no such thing as a guarantee.
TRON Price Forecast
The daily chart shows that following last weeks dip, the TRX price has jumped over 60%. The latest trade of $0.1185 aligns with the high of the day when the crypto market collapsed on May 19th. This is clearly positive and technically speaking, TRON looks likely to assault April's multi-year high of $0.1844. However, if the market is impressed when the news drops, the TRX price may exceed 2021's high and target the 2018 record of $0.3505.
However, the Relative Strength Index (RSI) is looking stretched, and at 65.26 suggests TRON is close to overbought. Furthermore, traders should be prepared for every eventuality. If TRX responds badly and turns lower, support is seen at $0.1050. Following that, the 50-day moving average at $0.0904, the 100 at $0.8396 and the 200-day at $0.7680 provide additional cover on the downside.
TRX Price Chart (Daily)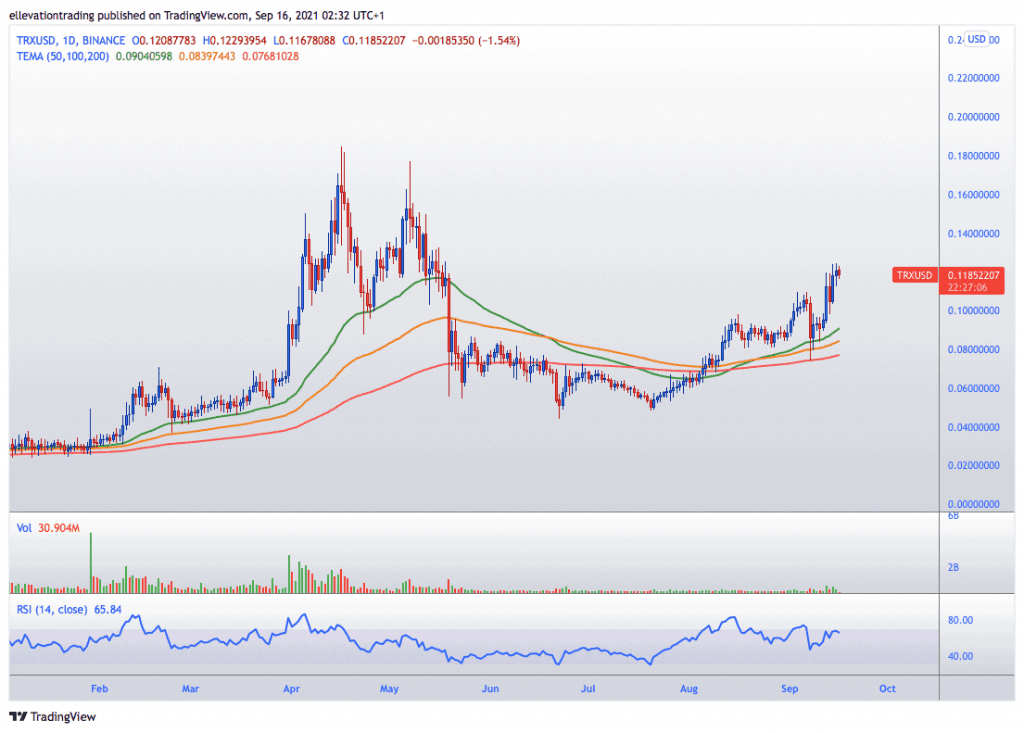 For more market insights, follow Elliott on Twitter.