The Trustpilot share price has had a strong showing this Friday, gaining 3.72% as bargain hunters sniff around the market for potentially profitable opportunities at lower prices. The 138.1 support level has limited any downward moves for the week, while the upper border of the emerging triangle appears to have limited further recovery.
The Trustpilot share price has struggled recently after missed earnings numbers soured sentiment on the stock. However, Trustpilot provided upbeat guidance on its FY2021 revenues, saying it expected to report total revenue of $131m for the 2021 fiscal year. It had also forecast it would pull in annual recurring revenue of $144m, up from 2020's ARR of $119m. 
However, the full-year numbers released on 22 March fell below expectations, as its losses more than doubled in 2021 due to non-recurring costs associated with its IPO. The $0.033 loss per share was worse than the analysts' expectations of a loss of $0.02 per share. The Trustpillow share price fell 14.83% on that day, dropping to as low as 123.4.
The stock now finds itself trading in a consolidation pattern, with the resultant triangle holding expectations of a further selloff in prices except bargain hunters come into the fray. The Trustpilot share price is up 3.52% this Friday.
Trustpilot Share Price Outlook
The preceding downtrend means the triangle chances of a bearish continuation are high. This move would require a rejection of price at the triangle's upper edge, followed by a breakdown of the lower border at the 138.1 support (15 March and 4 April lows).
Only when this is achieved can the price action aim to complete the measured move at the 82.2 support (127.2% Fibonacci extension from the 27 January to 8 March to 22 March price swing). This leaves 124.1 (7/22 March lows) and 101.6 (100% Fibonacci extension) as the potential barriers to this move. 72.1 (141.4% Fibonacci extension) and 57.5 (161.8% Fibonacci extension)
On the flip side, a break above the triangle's upper border following a successful challenge of this area by the active daily candle allows the Trustpilot share price activity to tilt towards the 171.7 resistance level (10 February and 21 March highs). An advance beyond this point brings 191.5 (28 January high) into the mix before 213.4 lines up as a potential upside barrier for the future.
Trustpilot: Daily Chart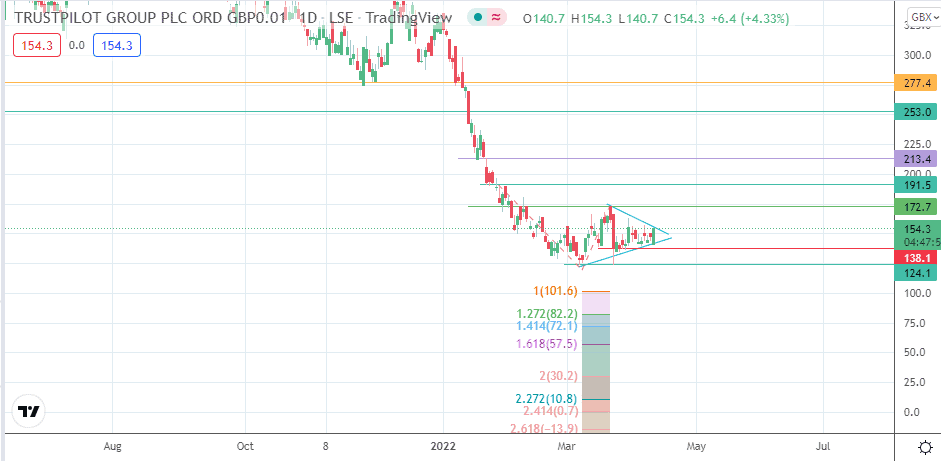 Follow Eno on Twitter.