The TRON price has dropped for four straight days and is on course for its longest losing streak since June when it sank to $0.044. As a result, yesterday, TRX closed below the 200-day moving average, which typically signals the start of a bear market.
Despite trading to a four-month high of $0.1240 on September 15th, TRON (TRX) may finish the month in the red. The current price of $0.086 represents a 30% drop in the last two weeks, which erased over $2 billion in value from the project. Currently, TRON is valued at $6.15 billion, ranking it the 27th-largest cryptocurrency ahead of Ethereum Classic (ETC). However, depending on how the price reacts after losing the considerable support of the 200 DMA will determine if TRX stays in the top 30 list.
TRX Price Analysis
The daily chart highlights the significance of the 200 DMA. During the crash in May, TRX dropped below the indicator but managed to finish the day above it. Furthermore, the TRON price stayed above the 200 DMA until June. When TRX eventually fell below the average, on June 21st, it dropped 35% in the following two days. By August 11th, the TRON price had worked its way back to the DMA at $0.0753, spending three days trying to close above it. The breakthrough came on the 14th, which led to a 67% rally to $0.1240. Unfortunately, yesterday TRX finished the day at $0.0856, just below the indicator at $0.087, which may mark the beginning of a new bear market.
Should TRX ends today's session below $0.0873, it will confirm the breakdown and bring the 100-day moving average at $0.0779 into play. Should the 100 DMA fail to support the price, the potential for TRX to fall back to the June lows increases dramatically. Therefore, how the price performs in the next few days could be critical. On a positive note, if the TRON price recovers the 200 DMA it would be constructive. The bearish relies on TRX closing today below $0.0873. On that basis, if TRON finishes the day above $0.0873, my view reverts to neutral, awaiting further developments.
TRON Price Chart (Daily)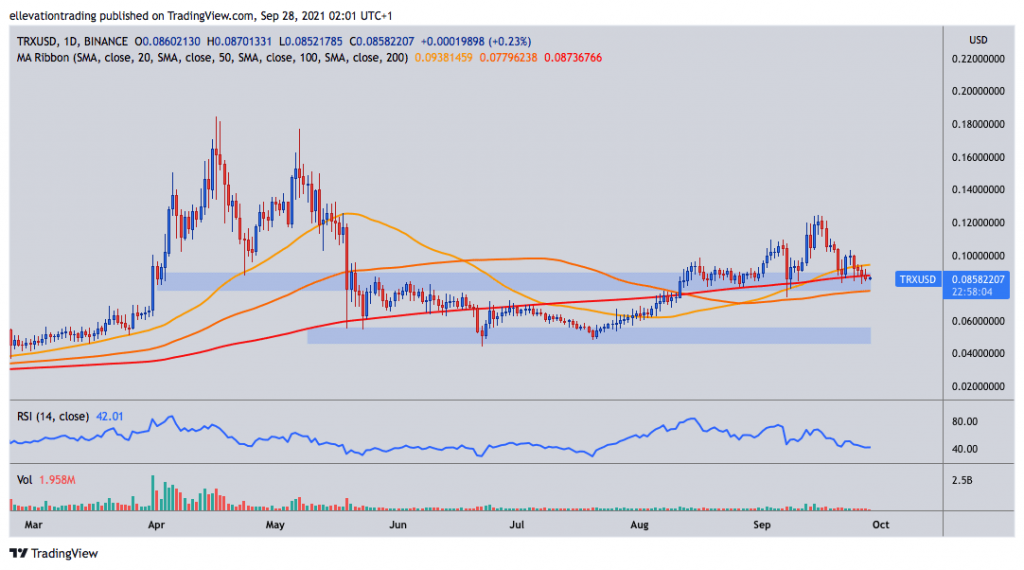 For more market insights, follow Elliott on Twitter.