The TRON price continues to recover from Tuesday's liquidation event, but can it continue, or will sellers come out of the woodwork? So far, the signs are that TRON (TRX/USD) is firmly back on its bullish trajectory. However, it may be too early to suggest the selling is over.
Tuesday was supposed to be a day of celebration and validation for the cryptocurrency market. 'Bitcoin day' marked El-Salvador's official launch of Bitcoin (BTC/USD) as legal tender. However, the celebrations were cut short when BTC/USD slid almost 20%, dragging most of the market lower with it. Fresh off the back of a four-month high on Monday, the Tron price slumped 35% amid heavy liquidation on Tuesday. However, after perfectly tagging the 200-day moving average, TRX staged an impressive recovery. This continued yesterday, and the rally lifted the price above key resistance levels. However, investors still wear the scars of May's historic collapse, which would have encouraged selling, and this could either be a bad thing or the catalyst for much higher prices.
TRX Price Forecast
The daily chart shows the TRON price has been trending higher following July's weakness, forming robust trend line support. The break of the uptrend at $0.0890 on Tuesday triggered stop-loss and momentum selling, which exaggerated the selloff. As a result, the price cascaded lower, breaching the 50-day moving average at $0.0841, the 100 at $0.0801 and reaching the 200 DMA at $0.0744.
However, the 200 DMA remains intact, and since its test, the price has rallied more than 22% and back to the trend line. Although, here's the problem, the price is struggling to reclaim the trend line. In my opinion, if TRX fails to close above the trend line today, now at $0.0910, it would suggest the trend restest has failed. In that event, the price should head lower for another look at the moving averages.
Of course, if TRX climbs above the trend, the outlook becomes extremely constructive. Furthermore, if a broad-based crypto recovery ensues, TRX could exceed last week's $0.1093 high. And this could be a catalyst for this week's sellers to FOMO back in, sending the price sharply higher.
For now, the market is likely to be skittish and prone to volatility. And for that reason, either outcome is possible. However, traders should be prepared for either eventuality.
TRON Price Chart (daily)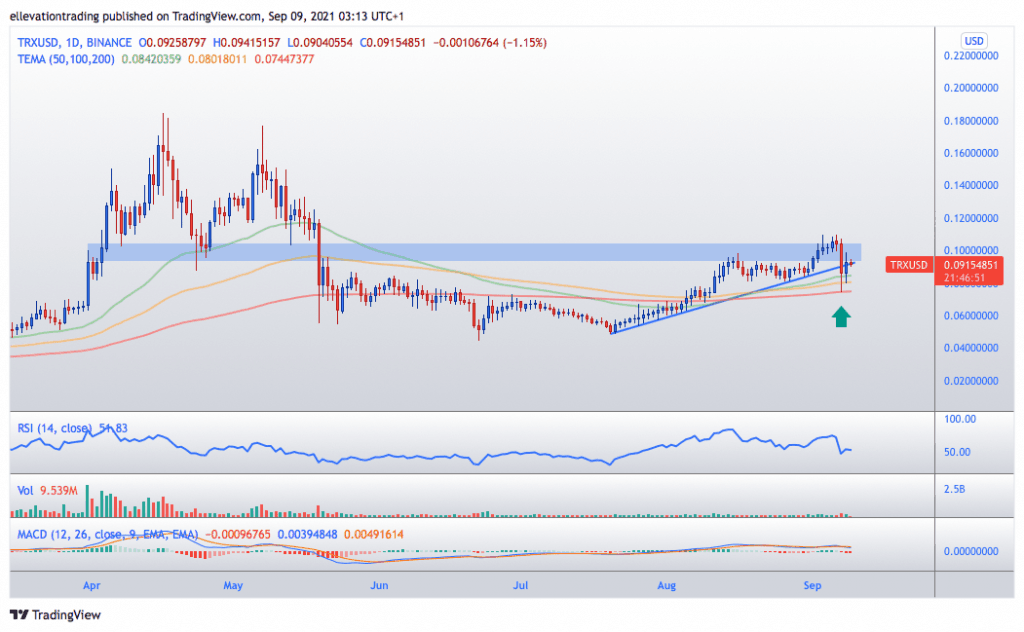 For more market insights, follow Elliott on Twitter.