The THORChain price jumped 17% on Thursday, snapping two weeks of weakness and setting RUNE on a course to the November high.
THORChain (RUNE) has seen mixed results in November. Despite many altcoins like The Sandbox and Livepeer making new highs, RUNE has been trending lower. As a result, by the 18th, THORChain had fallen almost 50% from the November six-month high. There doesn't appear to be a specific reason for the price drop. In my opinion, the success of Metaverse related projects likely sucked capital away from RUNE, resulting in a lack of buyers. Subsequently, sellers have been able to control the recent price action.
However, the bulls took back control of the price on Thursday, forcing it out of a bull flag formation, and encouraging momentum buying. Subsequently, RUNE's market cap has climbed back to $3.3 billion, ranking it the 56th most-valuable cryptocurrency, behind Enjin Coin.
RUNE Price Analysis
The daily chart shows tHe THORChain price accelerated 25% after clearing trend resistance and the 50-DMA at $11.23 Basis, the breakout, a logical target is the November high of $17.85, around 40% above the last trade.
However, the price is pausing this morning, which could be concerning. Nonetheless, as long as the breakout holds, the $17.85 target is achievable. On that basis, if RUNE falls below the 50-DMA and back into a downtrend, the bullish thesis becomes invalid.
THORChain Price Chart (Daily)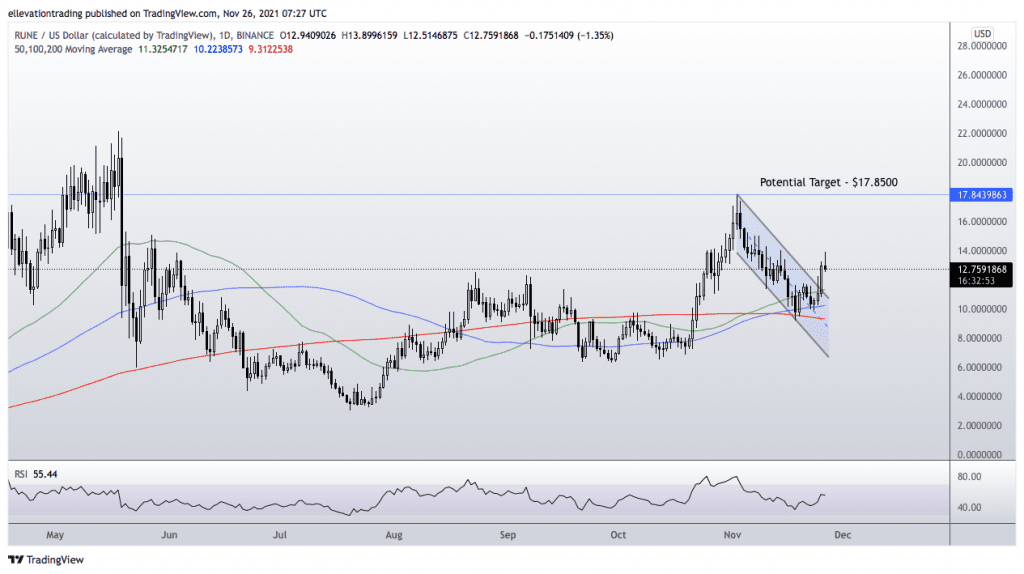 For more market insights, follow Elliott on Twitter.