The bitcoin price was violently flushed to a two-week low of $58,100 early Wednesday as selling pressure intensified below $60k. Bitcoin (BTC) has been threatening to break down for the last six days. However, before today each trip below $60,000 was reversed, But his morning, the reverse was true. Selling accelerated as soon as Bitcoin lost its 6-handle, and the price cascaded lower in one-way traffic to $58,100. Currently, BTC is changing hands at $59,000 (-2.34) as it attempts to claw back some losses.
The optimism surrounding the ProShares ETF listing caused a rush of buying in the first half of this month. However, since then, cracks have been appearing in the bullish narrative. As we outlined in our premium Bitcoin report, large holders have been trimming their positions during the recent rally. Furthermore, the number of coins sitting on exchanges was at a five-month high. Combined with increasing leverage, these factors left the Bitcoin price vulnerable to a sharp decline. Furthermore, historical data shows BTC often reverses violently after reaching a new all-time high. Of course, today's small decline is by no means a disaster. However, if Bitcoin continues to slide, it could trigger a wave of long liquidation forcing the price towards the September high at $53,000.
BTC Price Analysis
The daily chart shows that Bitcoin slid through the support of 2021's former all-time highs. However, the price has reclaimed the $58,367 top from February. Furthermore, if the Bitcoin price recovers the psychological $60,000 threshold, it could be considered a false breakdown. Nonetheless, until BTC climbs above $64,900k the odds we have seen a near-term top increase.
Considering our analysis, I am currently bearish on BTC, with an interim target of $53,000. Furthermore, if the price drops below $53,000 an argument can be made for $45,000. However, a close above $64,900 invalidates this thesis and suggests a new ATH will follow.
Bitcoin Price Chart (Daily)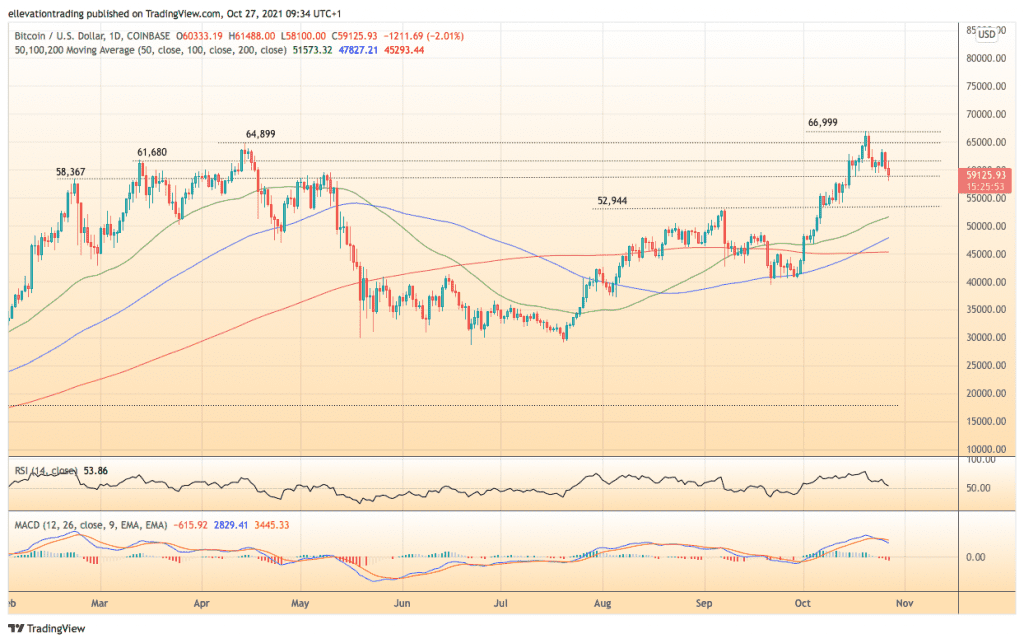 For more market insights, follow Elliott on Twitter.