Due to the guidance upgrade at the start of the month, Tesco shares (LON: TSCO) broke above the 272p resistance level. After successfully flipping this level into support, the shares of the retail giant are heading towards 288p, as forecasted in my previous analysis.
UK equities received a strong rebound on Tuesday. The FTSE 100 index, which is the benchmark of the UK stock market, was up by a remarkable 110 points at press time. This positive sentiment can be attributed to the reassuring remarks made by the Federal Reserve. Side by side, the US treasury bonds also experienced weakness as the yield dropped by 2.66% from last week's close.
Tesco PlC Gets Tailwinds From Easing Grocery Inflation
According to Kantar, the UK's grocery inflation has fallen to its lowest level since August 2022. The grocery inflation rate fell to 11% as compared to 12.2% in September. This is because the major retailers in the UK have slashed prices of essential products. Just last week, Tesco announced a price cut for 2,500 products, and the British retail giant predicts food inflation will continue falling in the future.
In other news, Jefferies increased their price target of Tesco share price and maintained its "Buy" rating. The American bank raised its price target to 350p from 320p on Thursday. UBS also holds a bullish outlook on the stock by raising its price target to 315p.
Tesco Share Price Technical Analysis
After the cooling grocery inflation, LON: TSCO along with other retailers, opened Tuesday in the green. The shares of the retail giant seem to be making their way toward 285p, which was the yearly high. The shares are currently changing hands 7% above the 200 MA after retesting it earlier in the month.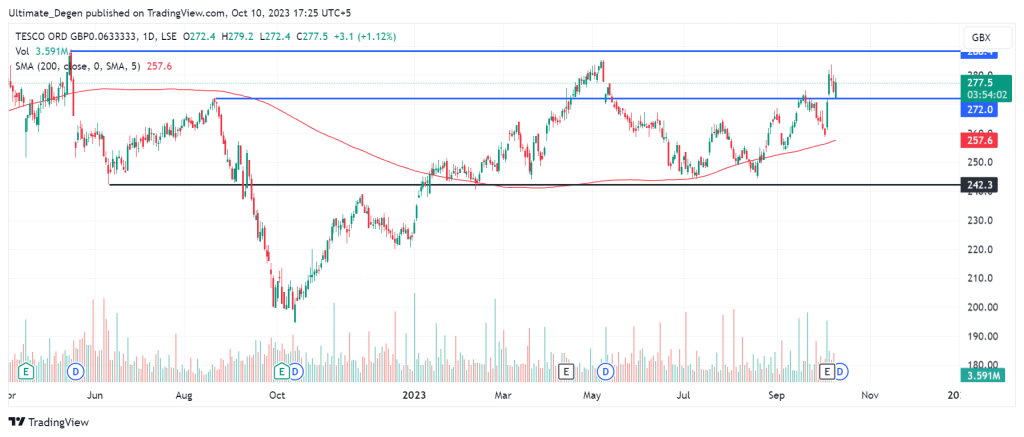 Tesco share price seems to be targeting the yearly peak, which is around 285p. An even more significant level is the 288p resistance level, which was the May 2022 high. If the broader market sentiment remains positive, there is also chance for the price to approach the 304p resistance level.