The Tesco share price is down 0.11% this Thursday, marking the fourth day the stock is in red territory as the sentiment around supermarket stocks in the UK worsens following what has been described as a "chilling" update from Morrison's supermarket chain.
Tesco competitor Morrison's provided a dire outlook on the state of the UK supermarket sector, indicating that consumer sentiment was starting to deteriorate. Morrison's team had said that geopolitical events and increasing inflation were beginning to impact consumer spending, with negative implications for UK supermarket chains. Analysts at Shore Capital have been reviewing the update, saying Morrison's could be an advance profit warning.
However, they think it is premature to say if Morrison's statement reflects the industry situation. Tesco is set to report its 4th quarter earnings for the 2021 fiscal year on 13 April 2022. The consensus forecast is for the company to pull in earnings of 9.4p per share. The EPS for the same period a year earlier had come in at 5.6p. However, it would appear from the Tesco share price action that traders are exercising caution ahead of that event.
Tesco Share Price Outlook
The Tesco share price is in the "b" wave of the corrective Elliot wave sequence, having been rejected at the 282.2 resistance level (25 November 2021 and 16 March 2022 highs). The decline from that resistance took out the support at 276.8 (17 November 2021 and 1 April lows) but appears to have stalled at the 269.6 support level (21 October 2021 and 14 March 2022 lows).
The bounce on this support requires additional momentum from the bulls to target the 276.8 price mark, now functioning as a resistance. This should be the "c" correction wave, and if the 276.8 price mark is broken, 282.2 should become available once more. Extension of the advance above 282.2 targets 289.9 (21 December 2021 and 28 February 2022 highs).
On the flip side, a decline below 269.6 opens the door for bears to make a move on the 264.8 support level. An additional pivot is seen at 259.8, where the 6 October 2021 low is located.
Tesco: Daily Chart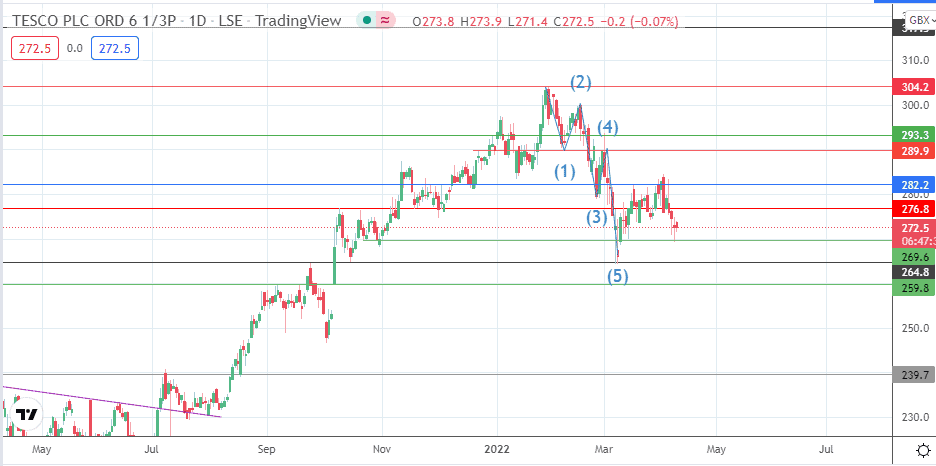 Follow Eno on Twitter.