Tesco share price appears to be testing the 272p level for support as the retail giant opened the week in the red. However, the shares of Tesco still sit 4% under their October high as the current CEO Jason Tarry is set to depart. At press time, the shares of the retail giant are changing hands at 271.7p and are down 0.22% on Monday.
The UK stock market experienced some bullish sentiment today despite Tesco shares having a pullback. The reason could be that the investors are expecting a pause in rate hikes in the next Bank of England meeting.
In addition, the recent $1.70-billion deal done by Ascential has led to FTSE 100 opening the week in the green. At the time of writing, the British benchmark index has gained 28.6 points and is up 0.44% from its last weekly close.
In the middle of October, Tesco began the process of selling its banking division. The grocery giant has appointed Goldman Sachs as the advisor for the sale. Analysts welcomed this move as a part of an evolving strategy by Tesco. The sale of the division will allow the management to use the capital to support Tesco's operation.
UK grocery sales have shown an improving trend in October. This suggests that people are spending more to take advantage of the price cuts. According to a report published by NIQ, British grocery sales rose 9.1% while grocery inflation continued to fall for the fifth consecutive month.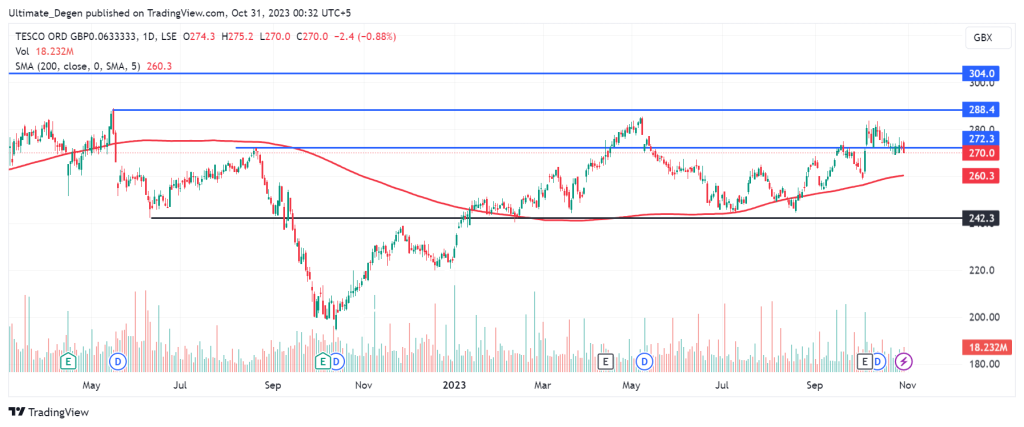 Tesco Share Price Forecast
LON: TSCO appears to be attempting to flip the previous resistance level of 272p into a support level. Additionally, the shares of the British retailer are also trading 4% above their 200 MA which is a good sign of strength for the bulls.
Currently, the Tesco Share price forecast depends on whether the price will gain acceptance above or below 272p. A breakout above the 272p level will put a potential bullish target of 288p on the cards. However, a breakout under will validate the bearish thesis as bears may drag the price all the way to 260p.