The Terra price is taking no prisoners and continues its relentless march higher. However, LUNA may have just hit a roadblock. Terra (LUNA) is trading at $50.91 (+7.02), up around 18% in the last 7-days and 7,300% year-to-date. Terra's market cap has edged above $20b, ranking it the 12th-largest cryptocurrency ahead of Avalanche (AVAX).
Stable-coin Protocol Terra has been one of the clear winners in 2021. The LUNA token, like many altcoins, started the year well, peaking just above $20 in March before collapsing to $3.60 in May. The Terra price then flat-lined in June before exploding in July. Between the 20th of July and today, LUNA has gained an astonishing 900% making it one of the best performing blue-chip altcoins. As a result, Terra has followed the likes of Solana (SOL), Ethereum (ETH) and set a new record. However, the price just ran head-first into long-term trend resistance, which could put the brakes on the rally for the time being.
LUNA Price Analysis
The daily chart shows LUNA reached a high of $54.22 this morning, almost perfectly tagging trend resistance at $54.30 before retreating to $50.60.
As a result, I consider the trendline to be a significant obstacle in the near term. In my opinion, this morning's rejection lines up a return to trend support at $41.90, around 18% below the last trade. Notably, the 50-day moving average sits just below the trend line, which should reinforce its support. On that basis, I expect dip buyers to emerge on an extension towards support.
I expect the unfavourable scenario to play out as long as LUNA remains below trend resistance. Subsequently, a daily close above $54.30 invalidates the bearish thesis.
Terra Price Chart (daily)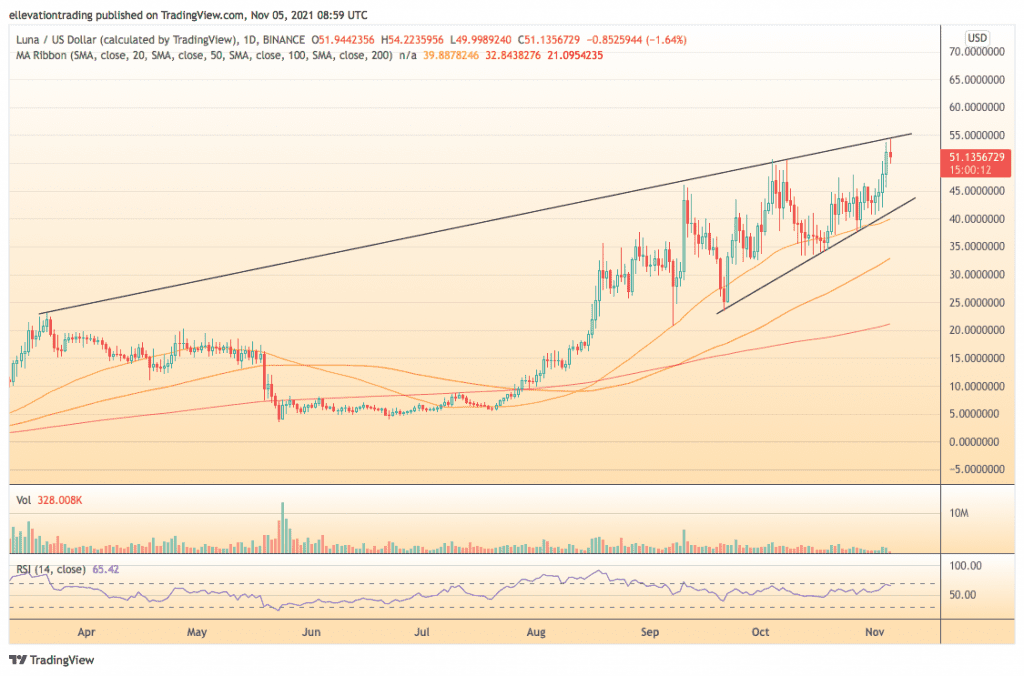 For more market insights, follow Elliott on Twitter.