The Solana price has reversed earlier losses and is currently 5% higher in Asian trading as SOL finds a bid at just the right time. Earlier this morning, as Bitcoin (BTC) slid below the 200-day moving average, Solana (SOL) was in danger of breaking down. However, BTC is $2,500 off the low, and Solana holds above a crucial support level.
September has been a tale of two halves for Solana. At the start of the month, the SOL token was one of the better performing cryptocurrencies, more than doubling in the first nine days, bringing its gains to 875% from the July low. However, last weeks network failure, which forced Solana to shut down for 18 hours, marked the start of a reversal. After topping out at $215.00 on the 9th, the Solana price was 40% lower by this morning.
This morning's weakness follows the wave of risk aversion enveloping risk assets as investors digest the impending implosion of the Chinese property market. The nations second-largest developer, Evergrande, is on the verge of collapse, leading to mass liquidation of Asian equities and increasing the risk of a Chinese economic hard landing. This is bad news for markets in general, and as we saw in March 2020, the good gets sold along with the bad in times of stress. However, the crypto selloff that started yesterday and accelerated earlier today is running into buying. As a result, Solana has bounced 10% from the $125.00 low and is changing hands at $139.15. However, we won't know if this is a knee-jerk bounce higher or something more substantial until the end of the day.
SOL Price Forecast
The 4-hour price chart shows several interesting developments. Firstly, we see that SOL has been trading lower in a parallel channel for the last 12 days, and the bottom of the channel at $125.00 provided the catalyst for the current bounce. Reinforcing this trend is a horizontal band of support that links the August high and the 7th of September low. Furthermore, it also marks the 50% Fibonacci retracement level of the price extension that started mid-August. Therefore, $125.00 should be considered a fundamental level.
If the Solana price closes below $125.00 in today's session, I expect to see further selling emerge, which could target the late-August highs around $82.00. Of course, this relies on several factors. Firstly, will the broader macro risk-off continue today? Secondly, if it does, will Bitcoin close below the 200-day moving average? I expect risk assets to behave extremely erratic this week, and until a more precise picture emerges, the SOL token price could go either way. Therefore, those wondering if they should buy Solana today may wish to take a back seat for the moment.
Solana Price Chart (4-Hour)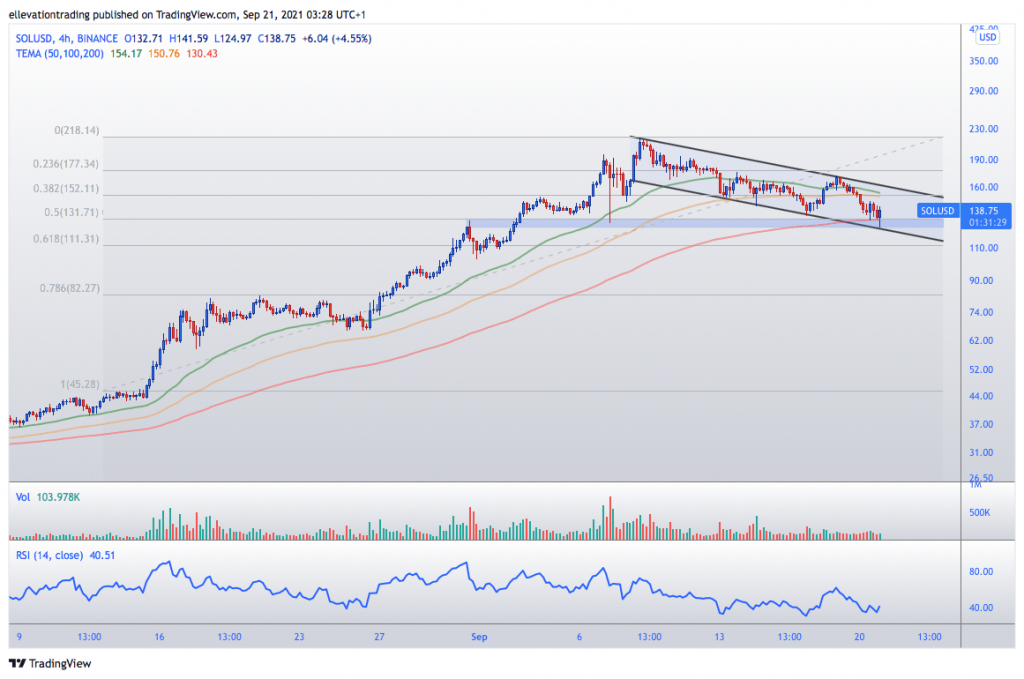 For more market insights, follow Elliott on Twitter.