The SKALE network was founded in 2017 as an open-source Web3 platform. It is operated as a collaboration between the parent company SKALE Labs and the NODE Foundation. The NODE Foundation is a Liechtenstein-based organization aiming to advance technologies to develop the next generation worldwide web. Twenty investors have funded SKALE price prediction Labs to date, and the project has secured $22.1m via six rounds of funding. The company held its initial coin offering in 2020.
The SKALE token (SKL) is used to pay fees on the network and confers on-chain voting rights on the holder. SKL has a maximum supply of 7,000,000,000, with 4,140,000,000 issued at genesis. 175,000,000 SKL were sold at the public launch for $0.03. Despite the slump the coin has experienced with the rest of the market, it is still up nearly 5-fold from the ICO price.
The SKALE network uses an Asynchronous Binary Byzantine Agreement (ABBA) consensus mechanism and functions as a Delegated Proof-of-Stake (DPoS) network.
SKALE Founders
The SKALE blockchain was co-founded by Jack O'Holleran, an entrepreneur with an artificial intelligence and machine learning background. O'Holleran currently serves as the CEO of SKALE. Dr Stan Kladko is the other co-founder who also serves as the project's Chief Technology Officer (C.T.O.).
SKALE Road Map
SKALE Labs released its last roadmap in February 2021. However, the project's website indicates projects under consideration, planned/in progress, and those that have been launched. These will serve as the headings to discuss the roadmap, abandoning the conventional time-based approach.
Projects under consideration include:
partial undelegation that allows delegators to select whether to partially undelegate tasks and allow for auto-renewal of the remainder.
auto acceptance of delegation proposals to make staking more flexible and effective.
take requests from several delegators and bundle them into a single smart contract, which can then be
delegated into a single request to save cost.
allow delegators to restake bounties earned.
Projects Planned/In-progress
Introduce feature that will allow developers of decentralized applications use Chainlink oracles with SKALE chains.
Allow developers to deploy SKALE chains and IMA in a user-friendly way.
Introduce SKL function into SKALE chains to allow anyone fund a SKALE chain as a means of increasing decentralization.
Projects launched include:
Integration of SKALE chains with the Graph.
Optimization of IMA gas usage.
Wrap signing of Web3 transactions and IMA function executions into one JS library.
Domain names and SSL certificates have been created for dApp developers to make their work more compatible.
SKALE chain has been manually deployed to enable the induction of the first 10 decentralized applications.
SKALE's Adoption Statistics
The SKALE network recently acquired a high-profile client. However, 3air, an African-focused blockchain internet company, has jettisoned Cardano for SKALE due to its "dearth of Haskell developers".
The company decided to switch over to SKALE after trying to recruit developers skilled in Cardano's Haskell programming language. Still, it could not get more than two in six months of trying.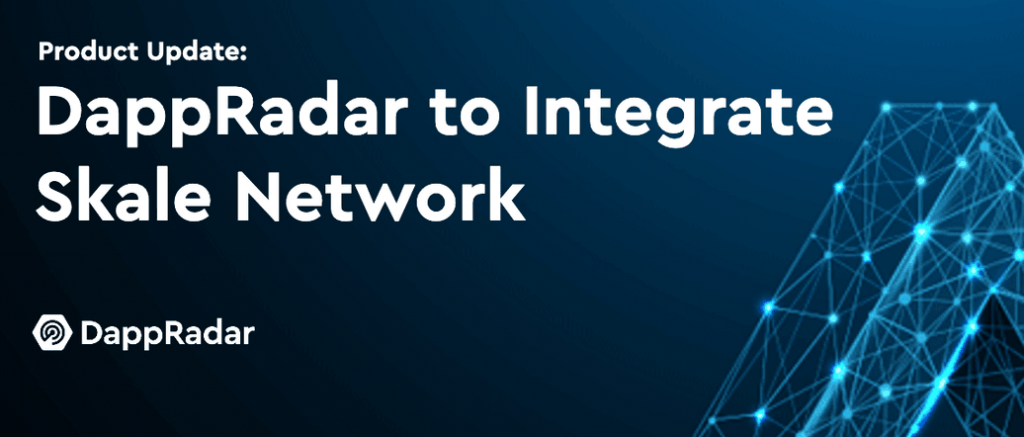 DappRadar is also on the verge of integrating SKALE and its ecosystem of dApps. The announcement was made on the DappRadar website on 7 February 2022.
SKALE Price Prediction 2022
The SKALE price prediction 2022 outlook is a medium-term outlook for which the weekly chart will be used in conducting the price analysis. The active weekly candle has faced rejection at the 0.1698 resistance mark. This is also the same barrier where the ascent of the previous week was arrested, thus keeping the price within the range bordered by this barrier and the 0.0938 price mark.
Any hopes of SKALE attaining the $1 mark in the medium term do not look very feasible. However, the SKALE price prediction 2022 indicates a chance of achieving the 50 cents mark if the bulls can remove the barriers at 0.1698, 0.2720, and 0.3743 price levels. 0.4356 is also a potential pitstop along the way.
If any of these barriers remain intact after a test from the bulls, the chances of attaining 50 cents become more remote. A breakdown of 0.0938 brings 0.0599 into the mix. This price level is the second-lowest mark ever attained by the SKL/USDT pair.
SKALE Price Prediction 2025
The SKALE network is built to attract gaming and content streaming projects. Therefore, its ability to attract these dApps sufficiently will determine the SKALE price prediction 2025 outlook.
Those who want to invest in SKL tokens with a long-term focus have a better chance of realizing their investment objectives than those with a short-term focus. The current price is attractive, but it must be noted that competing projects such as Solana and Polygon are already ahead of SKALE in terms of the number of projects they have attracted in the NFT and Metaverse space. Therefore, while the SKALE price prediction 2025 looks positive and should allow investors to deliver some gains, these gains are likely muted.
Is SKALE a Good Investment?
Instead, I would put my money in other projects that offer scalability on the Ethereum blockchain and offer something extra. Projects like Solana and Polygon offer potential exposure to NFTs and the Metaverse, which SKALE does not offer. If SKALE is to get widespread adoption which will drive users to its token and make it an attractive investment, it has to offer something much more. The latest SKALE news does not offer anything in this respect.
SKALE as an investment attraction would be suitable for a long-term investment focus. Even if its price rises along with the market for some reason, it is only suitable for quick exits for those who got in at dirt-cheap prices.
How to Buy SKALE?
You can buy SKL tokens on several exchanges such as Binance, Huobi, Kucoin, Uniswap, etc. These exchanges list SKL as a pairing with Tether (USDT), Bitcoin or the US Dollar. So it would help if you had BTC, USDT or USD to purchase SKL.
In volatile market conditions, you may suffer slippage if you use market orders. Limit orders will suit volatile conditions better.
SKL/USDT: Weekly Chart