Silvergate (NYSE: SI) stock price has been in a freefall in 2023 as concerns about the company's going concerns remained. The SI share price closed the week at $13.20, which was its lowest level since September 2020. It has plunged by more than 94% from the highest level since November 2021. The company has a total market cap of over $417 million. So, will the Silvergate Capital share price recover?
What is Silvergate Capital?
Silvergate Capital has moved from obscurity into one of the best-known banks in the United States. The company was established in 1987 and made its business in the commercial lending industry. It was never a prominent bank like popular firms like Goldman Sachs, Morgan Stanley, and Citigroup. Instead, it existed in the ocean of many regional banks that exist in the US.
Silvergate Capital has become prominent during the crypto industry in the past few months. The company's prominence emerged as the CEO embraced cryptocurrencies. It came the defacto lender of companies that exists in the crypto industry. This is important because cryptocurrencies are often seen as toxic assets by most banks. As such, by embracing cryptocurrencies, the firm attracted billions of assets from companies like Genesis, Gemini, and FTX.
What is Silvergate Exchange Network?
A key part of Silvergate is the Silvergate Exchange Network (SEN). It is a platform that enables its customers to send fiat currencies like the US dollar, euro, and pound. The service operates on a 24 hours, 7 days, and 365 days a week between their Silvergate accounts and accounts of other clients. Its API makes it possible to implement these trades on a real-time basis. As such, since Silvergate serves the biggest exchanges, it is seen as a central bank for the industry.
What does Silvergate do?
As mentioned, Silvergate Capital is a bank that offers a number of services. Its core product is known as the Silvegate Exchange Network that provides solutions to brokers and hedge funds. The company's other crypto services are SEN Leverage and Institutional Custody. Its commercial banking services are business banking, mortgage warehouse, and cash management. If cryptocurrencies and the sector collapses, the company will increase its focus to these industries.
Is Silvergate Capital a bank?
Yes Silvergate Capital is a bank. The only difference is that the company provides most of its services to companies in the crypto industry. It also provides services like commercial banking and cash management. The bank is also FDIC-insured, meaning that its dollar amounts are insured. Its crypto holdings are not insured.
Silvergate stock live chart
SI stock chart by TradingView
Silvergate Capital latest news
Silvergate has made several news in the past few months. In January, the company made headlines when it announced that it was slashing its workers by 40% in a bid to conserve cash. It joined other crypto-focused companies like Crypto.com, Coinbase, and Gemini that have laid off their staff. Some banks, including Goldman Sachs are also implementing layoffs.
Second, the Silvergate stock price also tumbled after the company announced a $196 million impairment charge in the fourth quarter. At the time, the CEO said:
"In response to the rapid changes in the digital asset industry during the fourth quarter, we took commensurate steps to ensure that we were maintaining cash liquidity in order to satisfy potential deposit outflows, and we currently maintain a cash position in excess of our digital asset related deposits."
The next important Silvergate stock news will be the upcoming fourth-quarter earnings that are scheduled for Tuesday this week. These results will provide more color about the company's fourth-quarter results. Still, their impact will be muted since it already delivered its preliminary results.
Silvergate stock price history
The chart below shows that the Silvergate share price was trading below $20 in 2020. At the time, the firm was not well-known in Wall Street since it was still focusing on its commercial lending. It then took off during the crypto mania that happened during the Covid-19 pandemic. This price jumped to $238 in November. At its peak, Silvergate had a market cap of over $4 billion.
Silvergate share price then tumbled to its lowest point since 2020. This decline saw the market cap plunge to about $417 million.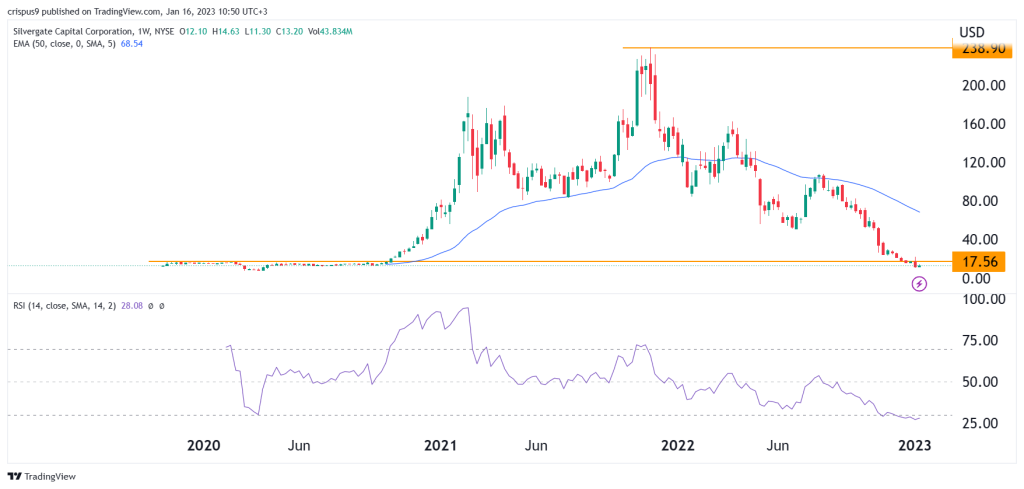 Will Silvergate go bankrupt?
A common question is whether Silvergate Capital will go bankrupt as the crypto industry implodes. The answer to this question will depend on the performance of cryptocurrencies. If digital coins recover, as they are doing this week, we could see the company continue to operate. However, if the situation worsens, there is a likelihood that it will continue existing as a going concern in the coming months. So, in my view, the company will not go bankrupt. Silvergate has about $5.6 billion of total debt, which is substantial.
Is it safe to invest in Silvergate Capital?
I believe that Silvergate Capital is a highly risky company to invest in because of its exposure in the crypto industry. As such, Silvergate bulls should consider investing in Bitcoin instead. Unlike Silvergate, Bitcoin does not hold any significant debt. Also, Silvergate holds assets of high-risk companies that, like FTX, could go bankrupt in the coming months. In a note, analysts at Wedbush wrote that:
"The potential for the company to take a valuation allowance against its deferred tax assets could lower book value further than our prior expectation, which we believe could reduce the company's earnings power further."
Is Silvergate stock a buy or sell?
So, is SI stock a good buy or sell? Analysts have a mixed outlook for the Silvergate share price. The average estimate among Wall Street banks is $36, which is significantly higher than the current $13. Most recently, however, analysts have downgraded the stock amid the crypto crash. They include analysts at Morgan Stanley. Wedbush, Craig Hallum, Wells Fargo, Bank of America, and Jp Morgan.
Meanwhile, data by Tipranks shows that 3 of the 10 analysts it tracks have a buy target. On the other hand, 5 have a hold rating while 2 have a sell rating.

Silvergate stock price 2023
The daily chart shows that the SI share price has been in a strong bearish trend in the past few months. It crashed below the important support level at $17.56, the lowest point since 2020. The shares have plunged below all moving averages. Volume has also dropped as demand falls. As such, technically speaking, the outlook for the stock is bearish.
However, the stock could rebound if cryptocurrencies maintain their bullish view. Another catalyst will be a dovish tone by the Federal Reserve. As such, a jump above $30 cannot be ruled out.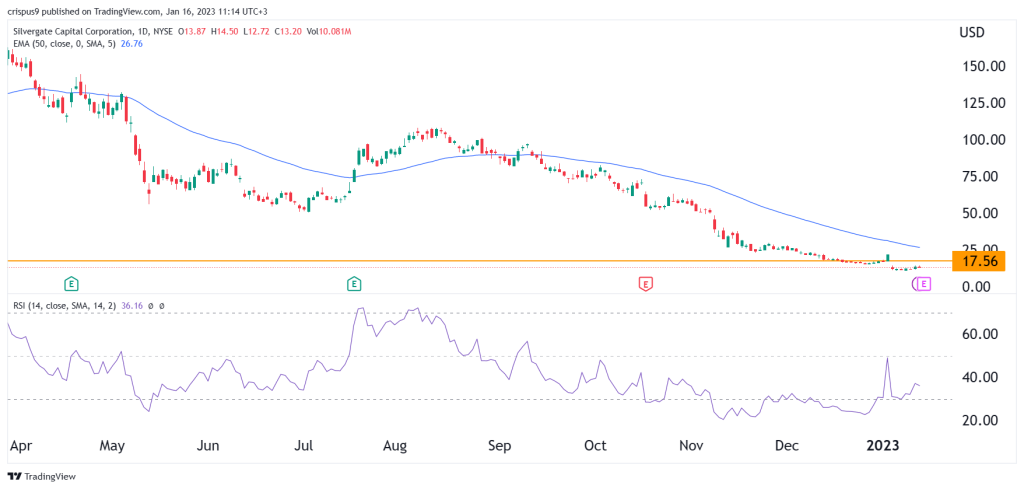 Silvergate stock price prediction 2025
Coming up with a good and accurate SI stock price forecast for 2025 is extremely difficult. For one, a year ago, it was difficult to predict that FTX would go bankrupt. It is also impossible to predict where Bitcoin and Ethereum prices will recover in the coming months. In my view, I suspect that Silvergate shares will be much lower than where it is today in 2025.
SI stock price forecast 2030
The past few years have proven very volatile for cryptocurrencies. Bitcoin moved from less than $10 and soared to over $67,000. If the same bullish trend repeats itself in the next few years, then it means that the stock will surge by 2030. Silvergate's shares will depend on the performance of Bitcoin in the same period. Still, I would recommend buying Bitcoin instead of Silvergate and other stocks like Coinbase and Marathon Digital.
Does Silvergate Capital pay a dividend?
No. As a loss-making company, Silvergate Capital does not pay a dividend. It will only start paying a dividend if cryptocurrencies recover and the company becomes profitable.
Silvergate biggest shareholders
The biggest shareholder of Silvergate Capital is Vanguard Group, Blackrock, State Street, Marshall Wace Asset Management, and Amvescap PLC. On the other hand, the top funds that own Silvergate are SPDR SPDR Regional Banking ETF, Vanguard Total Stock Market ETF, and Vanguard Small Cap Index.