Royal Dutch Shell share price is up by 0.50% in London today as investors react to the impressive China trade data. The company's class A shares are trading at 1,083p, where they have been for the past few days. At the same time, Brent and WTI crude oil price has dropped by 1.78% and 2%, respectively. Also, BP shares are up by 0.81% and trading at 260p.
Royal Dutch Shell stock has been under pressure
Oil companies have been under pressure this year. Royal Dutch Shell share price has dropped by more than 52% this year and by more than 30% in the past five years. The stock has also dropped by more than 50% in the past 12 months.
There are several reasons for this weakness. First, the coronavirus pandemic has led to lower demand for crude oil this year. According to the France-based International Energy Agency (IEA), global demand is expected to decline by more than 8 million barrels this year.
Second, the price of crude oil has been in a downward trend. For example, Brent crude oil is trading at $42, which is lower than the $64 it was in August last year. Lower crude oil prices affect the profitability of oil companies like Royal Dutch Shell and BP.
Third, as a result of lower oil prices, Royal Dutch Shell has been forced to slash its dividend for the first time in years. It has also been forced to slash the value of its assets by about $22 billion.
So, is Royal Dutch Shell a buy?
Royal Dutch Shell has major problems going forward. For example, the company, together with other energy companies will be forced to pay more taxes in many countries as governments tries to transition from carbon-emitting energy sources. It also faces the challenge of extended period of low crude oil prices.
However, there are some positive signs for the company. For one, the global economy is recovering well as evidenced by recent economic data. Second, the company is considering selling assets to boost its balance sheet. For example, it is selling its Norwegian natural gas business. Third, the company's share price looks undervalued.
Indeed, analysts believe that Royal Dutch Shell share price will climb to 1,660p, which is a premium from the current price of 1,083. For example, analysts at Credit Suisse expect the shares to rise to 1,600p while those at JP Morgan believe that the shares can climb to 1,700p.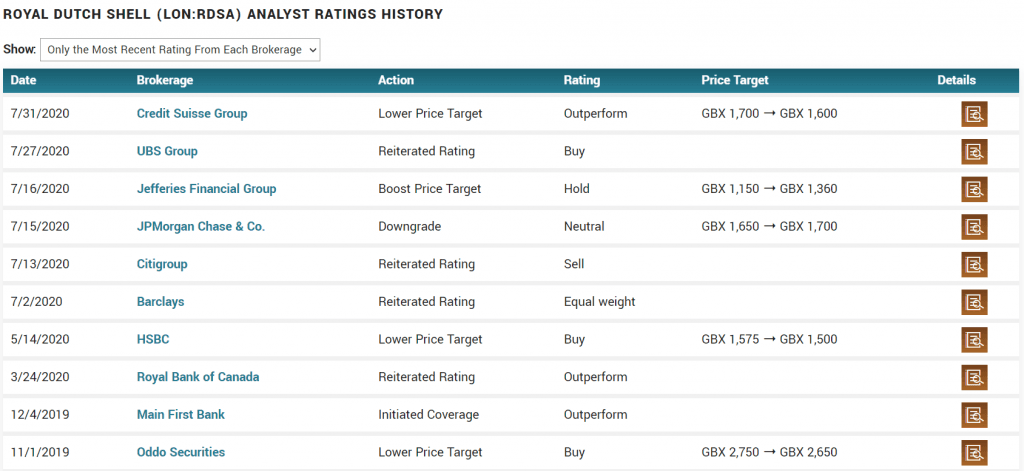 Royal Dutch Shell share price forecast
The weekly chart shows that Royal Dutch Shell share price has been in a downward trend. Indeed, it has dropped in the past three consecutive weeks. The price is below the 23.6% Fibonacci retracement level. It is also below the 50-day and 100-day moving averages. Also, the price seems to be in a strong downward trend as shown by the blue trend line.
Therefore, it seems like the path of least resistance for the shares is lower as bears attempt to test the YTD low of 970p. On the other hand, a move above 1253p will invalidate this trend. This price is along the descending trendline that is shown in blue.
Don't miss a beat! Follow us on Telegram and Twitter.
Royal Dutch Shell Share Price
More content