The Rolls-Royce share price continues to consolidate close to the 16-month high as investors digest the recent outperformance. Rolls-Royce (LON: RR) ended last weeks trading session at 144.56p, higher by 0.86p (+0.60%), marking the highest weekly close since March 2020.
The Rolls-Royce share price has finally broken free from the magnetism of the £1 price point. For most of 2021, RR has gyrated on either side of the round number. However, the aviation engine-maker has soared around 46% on senior management changes and broker upgrades over the last month. Rolls recently announced that Grazia Vittadini, former Chief Technology Officer (CTO) at Airbus, will join and assume the same role. Furthermore, the opening of US airspace has led to banks marking up their expectation for the share price as we advance. JP Morgan raised their price target from 130p to 150p, maintaining a neutral weighting. In comparison, Berenburg bank's 160p 12-month target projects slightly more upside.
RR Price Forecast
The daily chart shows the Roll-Royce share price is above the 50, 100 and 200-day moving averages (DMA's) and finding resistance at the June 2020 high of 146.46p. Furthermore, the share price is at a crossroads due to the recent sideways price action. If RR successfully clears the horizontal resistance, bullish momentum may increase, targeting the gap on the chart from March 2020 at 182.70p. However, we should be mindful of the broker research. Considering the recent performance, Rolls-Royce may succumb to profit-taking if it fails to punch through 146.46p. On the downside, the 50-DMA at 122.49p is the first support, followed by the 100-DMA at 112.84p. The Rolls-Royce share price looks fair value at the current levels, subsequently, investors may wish to adopt a 'wait and see' approach at the significant technical level.
Roll Royce Share Price Chart (daily)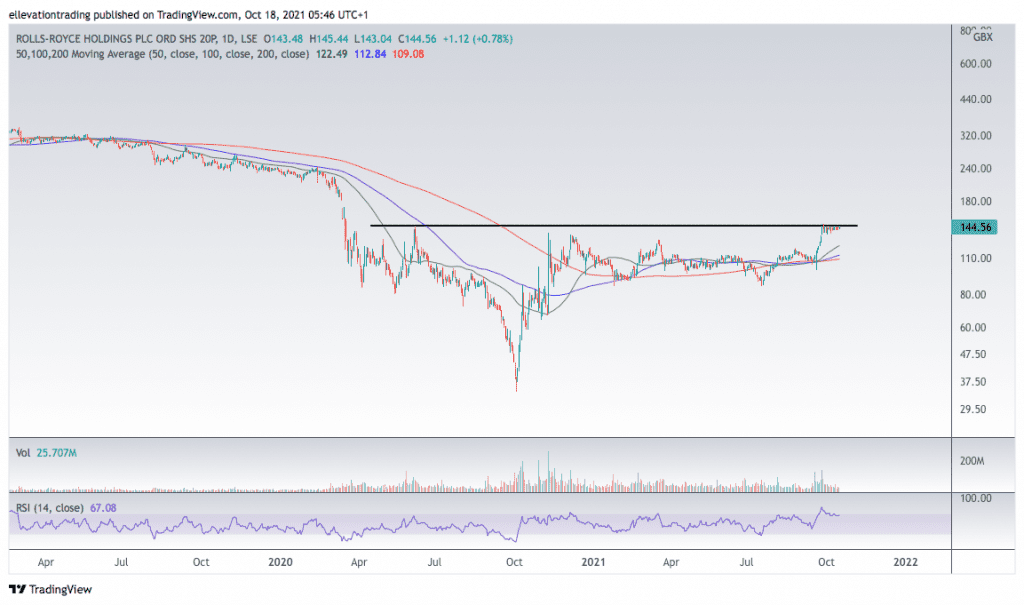 For more market insights, follow Elliott on Twitter.