Robinhood Stock (NASDAQ: HOOD) slid -10.4%, to its second-lowest close ever, and 6% below its $38 listing price. Furthermore, the latest decline sees the stock almost 60% below its all-time high. And if Wednesday's trading update is anything to go by, there may be more suffering ahead.
A sharp slowdown in cryptocurrency trading contributed to a top and bottom-line miss in the third quarter. Revenue came in at $365m vs estimates of $431.5m, much lower than the second-quarter revenue of $565.5m. Furthermore, the retail broker reported a -$2.06 per share loss, wider than the expected -$1.37. As if that wasn't bad enough, active users declined from 21.3m to 18.9m.
The company also warned that the challenging conditions are likely to persist for the rest of the year. Also, the early investor lock-up period is soon expiring, meaning around 62m million shares will be available for sale, which could heap even more pressure on the price.
HOOD Price Forecast
The 2-hour price chart paints a very depressing picture. Robinhood stock is approaching its all-time low of $33.33. Furthermore, the moving Average Convergence Divergence Indicator (MACD) highlights growing negative momentum. However, the Relative Strength Index reads 27.20, suggesting the price is oversold at the current level.
Nonetheless, considering the poor Q3 numbers, it's hard to build a bullish argument. At the current level, I don't see a compelling reason to buy the stock. On the other hand, although the stock may continue to drift lower, I wouldn't short it down here. On that basis, I maintain a neutral view awaiting a better signal.
Robinhood Stock Chart (2-hour)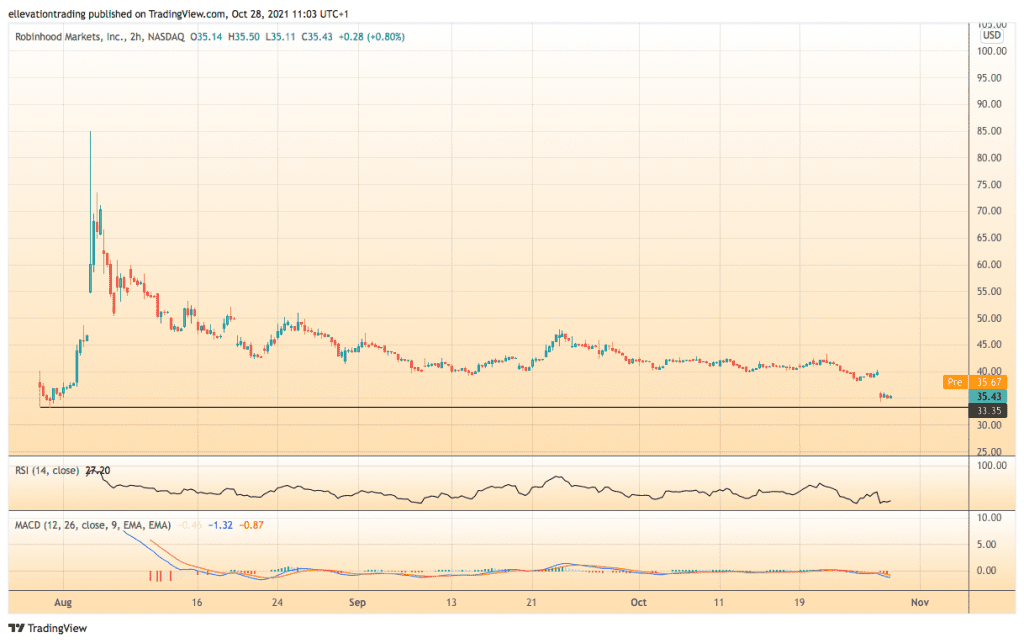 For more market insights, follow Elliott on Twitter.