The Request Price skyrocketed on Thursday after Metaverse gaming giant The Sandbox joined its growing customer base.
Request (REQ) was almost 400% higher at one stage yesterday, before finishing the day up 276%, setting a record closing price of $0.7644. The parabolic move lifted REQ's market cap to around $725 million, ranking it the 139th most-valuable cryptocurrency, ahead of MyNeighbourAlice (ALICE).
The Sandbox deal is a major coup for the decentralized payment and invoice system. As a result, its native utility token REQ saw a huge surge in trading volume on Thursday following the announcement. Christophe Fonteneau, Head of Strategic Partnerships at Request, said:
"As crypto becomes increasingly accepted as an asset class and payment method, we see more leading crypto organizations choosing Request to manage their financial operation with crypto."
REQ Price Analaysis
The 4-hour chart highlights the magnitude of Thursday's move. Notably, the parabolic extension lifted the Request price high into overbought territory, triggering a reversal from the high. Early Friday, REQ is trading lower at $0.6928, around 40% below Thursday's peak.
It's hard to say how the price will react at this level. Due to the rapid appreciation, there are no obvious support levels between here and $0.2500, around 65% below the current price. Therefore, if the euphoria fades, the price could drop sharply.
However, Metaverse cryptos are performing well now, and an extended continuation of the rally can't be ruled out. Nonetheless, in my opinion, only traders prepared for extreme volatility should consider buying REQ.
Request Finance Price Chart (4-Hour)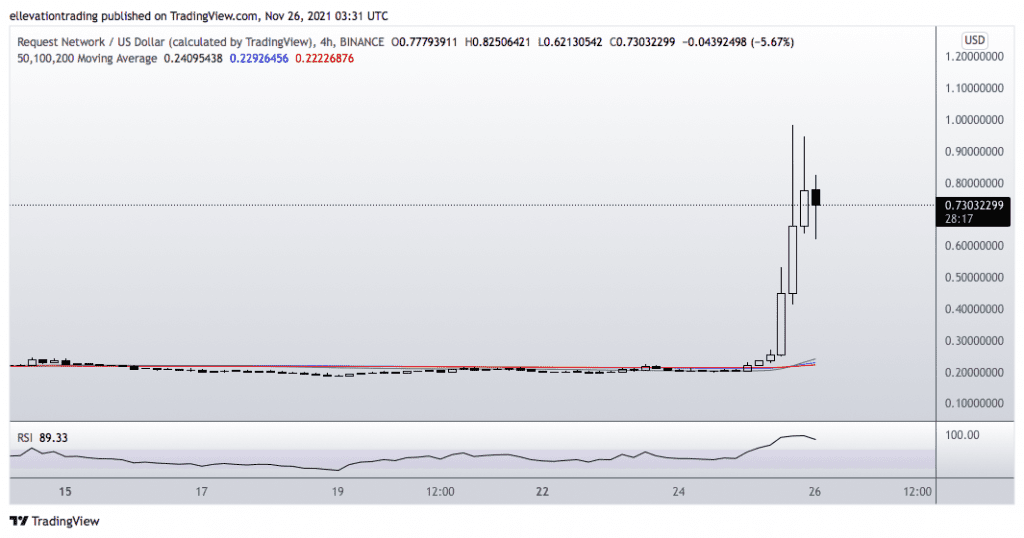 For more market insights, follow Elliott on Twitter.