The Request Network price is set to post its fifth consecutive daily loss, wiping out most of the gains it made last week.
Request Network (REQ) surged almost 500% on Friday and Saturday, reaching a record high of $1.2002 after The Sandbox signed up for its services. At its peak, the decentralized payment and invoice platform's market cap reached $1 billion, and the REQ token was close to breaking into the top 100 cryptocurrencies. However, more than $500 million has been erased from the project's value, sending Request Network sliding down the rankings to #164.
REQ's parabolic rally came as investors wagered the Request Network would be a major beneficiary from the rise of the Metaverse. Recently, Metaverse-related NFT and Gaming tokens like Gala and Enjin coin have been some of the best performing digital assets. However, after REQ reached the ATH on Saturday, the euphoric buying dried up, leaving a vacuum beneath the price.
REQ Price Analysis
The daily chart shows the Request Network Price is in freefall. Presently, REQ is finding some support around the former all-time high at $0.4500. However, REQ, could soon slice through $0.4500, considering the bearish momentum.
In that event, $0.25000 offers the next support level. And taking into account thelarge trading volume on the way up, I expect to see the $0.250000 tested soon.
Depite the near term negativity, I think Request Network could offer an attractive long-term Metaverse play. However, my preference is to add on extreme weakness. Therefore, my interest lies between $0.2000 and $0.2500. However, if REQ closes today above $0.4500, it may encourage dip buyers. For that reason, a close above $0.4500 invalidates my short-term bearish view.
Request Network Price Chart (daily)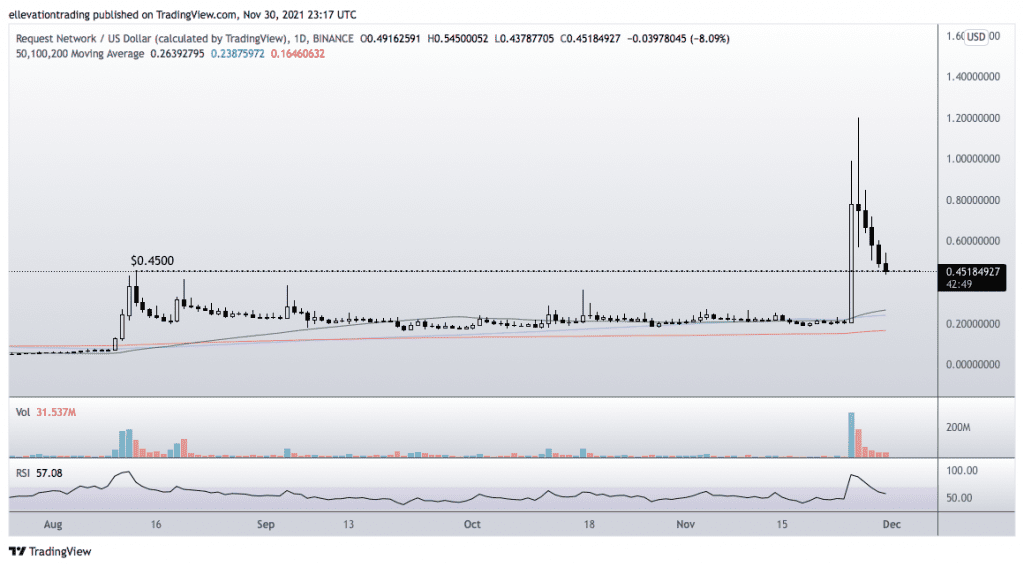 For more market insights, follow Elliott on Twitter.