The Polkadot price jumped 18% to a five-month high of $43.56 on Wednesday, on the news that parachain auctions will kick off next month. The impressive performance has stretched Polkadot's (DOT) rally from the July low to over 300%, narrowing the gap on the May all-time high.
The highly-anticipated auction, scheduled for November 11th, will bring Polkadot one step closer to realising the network's potential. If the success of Polkadot's 'canary network', Kusama (KSM), is anything to go by, the Polkadot price could go even higher. The Kusama network has completed six parachain auctions, with notable winners like Kurura and Moonriver. The last Kusama auction on September 1st triggered a 45% surge in the price. Undoubtedly, the Polkadot bulls will be hoping the DOT token will experience a similar uplift.
DOT Price Forecast
The daily chart shows the Polkadot price burst above the September 14th high of $38.74, briefly exceeding February's $42.22 peak. However, a series of highs approaching May's record offers robust resistance between $45 and $50. If Polkadot clears the $49.75 ATH from May, it should encourage buying, which could drive the DOT price materially higher. How much higher is hard to say, of course.
As long as Polkadot holds above the September 14th high, I expect bullish momentum to increase. However, the Relative Strength Index reading of 65.0 is approaching an overbought signal. That being said, previous rallies this year have extended deep into the overbought territory before correcting. Therefore, investors should pay attention to signs of exhaustion in the RSI. Nonetheless, the outlook for Polkadot is constructive above the September high. On that basis, if the price drops below $38.70, it will invalidate the bullish thesis and indicate the rally is losing steam.
Polkadot Price Chart (Daily)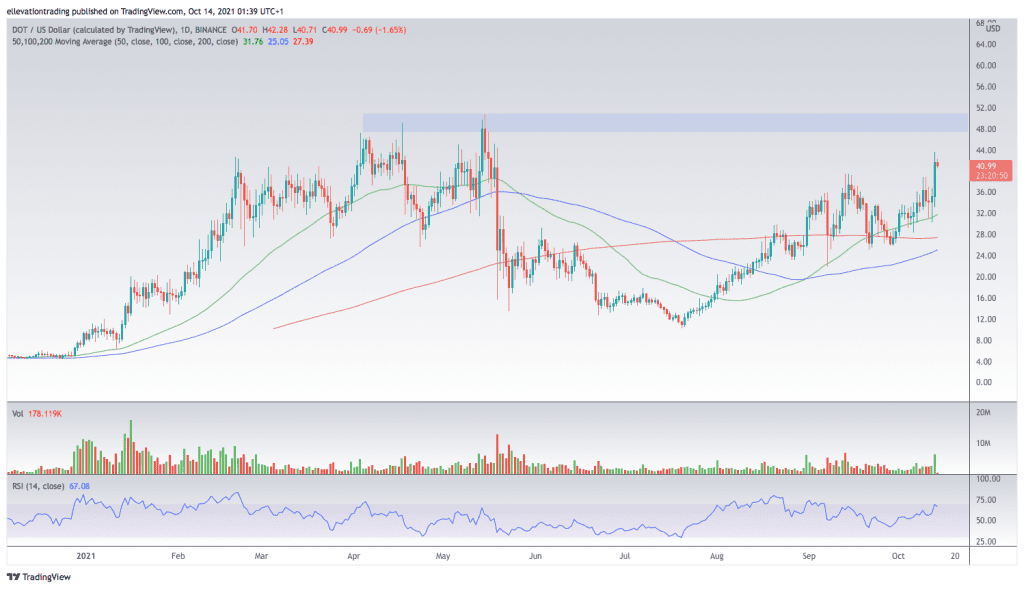 For more market insights, follow Elliott on Twitter.