Platinum price has drifted upwards in the past few months as demand continues to outpace supply. It rose to a high of $1,020 on Wednesday, which was about 23% above the lowest level in 2022. This price is still about 13% below its highest point in 2022. So, what is the outlook for platinum in 2023?
Platinum supply and demand 2023
Platinum, like other metals, is usually affected by demand and supply. In most periods, platinum tends to do well in a period when demand is high and supply is tight. 2022 was characterized by supply chain disruptions following Russia's invasion of Ukraine and mild demand as China maintained its Covid-zero strategy.
Analysts believe that platinum supply and demand dynamics for 2023 will be characterized by high demand and low supplies. As a result, the world will move into a supply deficit. In a recent report, World Platinum Council said that its demand will surge by 19% to 7.7 million ounces.
At the same time, challenges in Russia coupled with power and maintenance issues in South Africa will lead to a deficit of more than 303k ounces. A high deficit will be a positive thing for platinum prices.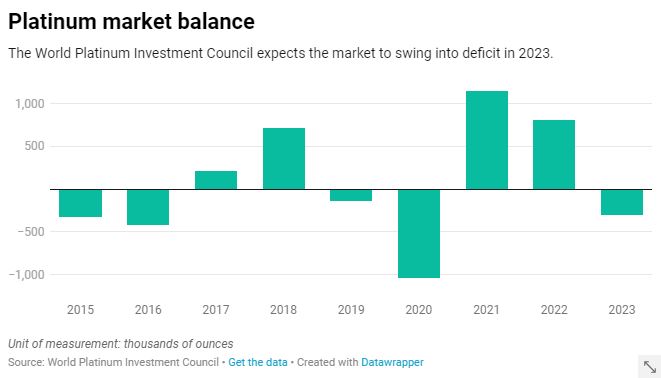 The auto sector will likely do well in 2023 now that China has decided to lift its restrictive Covid policies. China is one of the biggest buyers of platinum and palladium since it is the biggest manufacturer of parts used in the auto sector. Platinum is used to manufacture catalytic converters that are used in reducing vehicle emissions.
Federal Reserve decisions
Platinum is also a precious metal whose price is affected by actions of the Federal Reserve. The Fed decided to hike interest rates by 450 basis points in 2022, the biggest increases in decades. This hawkish tone was part of the bank's strategy to fight soaring inflation.
Now, there are signs that inflation is easing in the US. Data published this month showed that inflation eased to 7.3% in November this year. Therefore, analysts believe that the Fed will not be as hawkish as it was in 2022. This explains why bond yields and the US dollar index have plunged while precious metals like silver and gold have bounced back.
Platinum price prediction
The daily chart shows that platinum prices have been in a strong bullish trend in the past few months. The stock has formed a golden cross, which happens when the 200-day and 50-day moving averages cross over. It has also formed an inverted head and shoulders pattern. Therefore, the stock will likely continue rising as buyers target the next key level to watch in 2023 will be at $1,200. A drop below the support at $938 will invalidate the bullish view.