Peleton stock slid to a 16-month low after the bell following the company's disastrous fiscal first-quarter earnings call. Peleton Interactive Inc (NASDAQ: PTON) missed every metric last night and cut its full fiscal year outlook. As a result, PTON lost $26 in a straight line down to $60.11.
Revenue was up +6 in the quarter to $805, less than the expected $809. Furthermore, the company reported a loss of $1.25 per share, more comprehensive than analyst predictions of a $1.10 loss. Furthermore, operating expenses ballooned 140% over the period. But the death blow is undoubtedly the slowing sales growth. Peleton's sales grew by just 6% in the quarter, compared to 230% in the same period last year. Of course, the market expected a slowdown in sales growth. However, the magnitude of the drop raises doubts over Peletons prospects. Furthermore, the company warned investors that the road ahead would be littered with potholes.
"Our current range estimate of Adjusted EBITDA loss for 2Q is $(325) million and $(350) million. Our revised outlook for full-year FY 2022 is a range of $(425) million to $(475) million. We continue to expect to be adjusted EBITDA profitable for full-year FY 2023."
PTON Price Analysis
The daily chart shows Peleton stock has broken down from a descending triangle pattern. Furthermore, because of the rapid ascent last year, there is scant technical support until $38.00. However, when trading resumes today, the Relative Strength Index should be deep into oversold territory.
Despite being oversold, it's hard to say what comes next for the stock. Logic suggests the breakdown should lead to stop-loss selling this morning, making lower look likely. Nonetheless, selling into a 30% drop carries substantial risks. In my opinion, over time, Peleton should continue to bleed lower towards the $38.00 support level. However, the best course of action is to wait this one out until the dust settles.
Peleton Stock Chart (4-hour)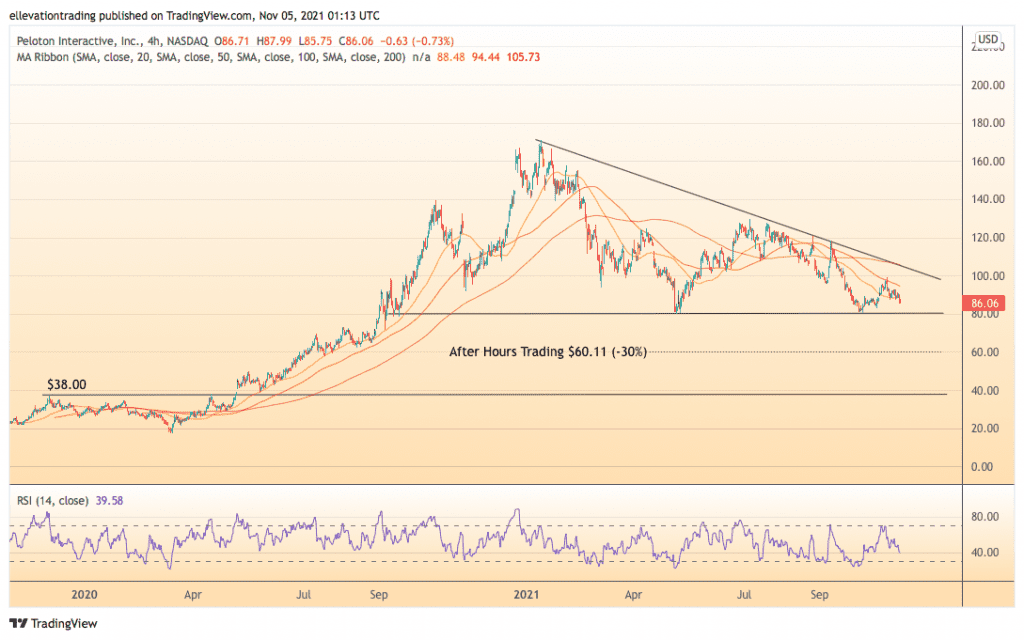 For more market insights, follow Elliott on Twitter.