Ocado will be the top FTSE 100 stock to watch this week as it is set to publish its trading statement on Tuesday. The statement will provide more color about the state of the British retail sector amid worries of a recession. Ocado share price was trading at 683p, where it has been in the past few days. This price is about 76% above the lowest level this year.
Ocado latest news
Ocado Group stock price has been in a consolidation phase in the past few days as the market waits for the upcoming trading statement. Investors will want to see whether the company will issue another profit warning. It has already issued about 4 warnings this year as the company remained under intense pressure.
The most recent results showed that its total sales rose by 2.7% in the third quarter to 532 million pounds. It also predicted that the company's growth will be in the mid-single-digit percentage. Data compiled by Ocado shows that Ocado Retail will generate over 2.3 billion pounds in fiscal 2022. Its other divisions like UK Solutions and International Solutions will be 807 million pounds and 136 million pounds, respectively. 
Meanwhile, economists expect that the company's EBITDA will be 48 million pounds. For the group, analysts expect that its EBITDA will be a 25 million loss.
OCDO slams brakes on growth
The other important Ocado news was that the company has started slamming brakes on growth. In a statement, the firm said that it will stop investing its automated distribution centres in the UK. As a result, it will pause the construction of two new fulfillment centers that were set to open in 2024 and 2025. The firm attributed the pause to the significant surplus in the country.
Ocado has made several important news recently. The most important catalyst was the deal to build several distribution centers in South Korea. These centers will be for Lotte Shopping, one of the biggest companies in South Korea.
Ocado share price forecast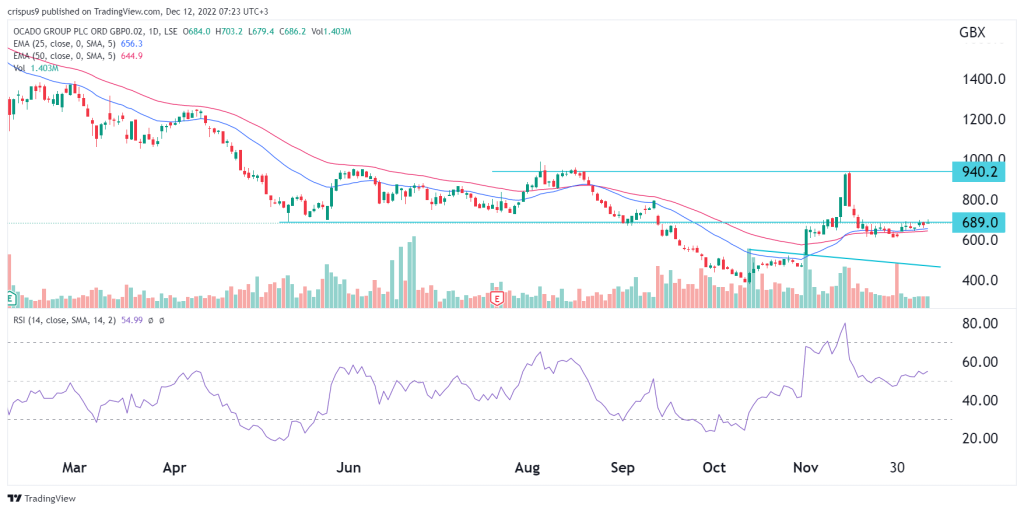 The daily chart shows that the OCDO stock price has been in a consolidation phase in the past few days. In this period, the shares have consolidated at the 25-day and 50-day moving averages. The Relative Strength Index (RSI) moved slightly above the neutral point of 50. Volume has continued slipping in the past few weeks.
Therefore, there is a likelihood that Ocado will have a bearish breakout after the trading statement. If this happens, the next key level to watch will be at 500p. A move above the resistance point at 700p will invalidate the bearish view. The bearish view is in line with my recent Ocado forecast.