The slump in car deliveries beset Chinese EV companies, which is responsible for the bearish Nio stock price forecasts as the stock opens to a 10.18% drop this Thursday. 
COVID-related disruptions are being blamed for the weaker April sales posted by Nio and other Chinese EV companies. Nio, in particular, saw a year-on-year drop in its April vehicle deliveries. The company delivered 5.074 in April 2022, a steep drop from April 2021 when it delivered 7,102 vehicles. Moreover, on a month-on-month basis, Nio saw a slump in vehicle deliveries to the tune of 49% after manufacturing took a hit from COVID-19 lockdowns in the production hubs. 
Nio had paused production on 9 April at its Hefei factory as the lockdowns impacted its supply chain. Despite the Chinese government's "closed loop" technique that encourages workers to be housed on production sites, a lack of workers continues to drive down output.
Technically speaking, The slump in the Nio share price on Thursday has truncated the uptick that followed the break of the falling wedge pattern. This has driven a return move to the wedge's upper border, which is expected to function as a support level in role reversal.
Nio Stock Price Forecast
If the wedge holds off the return move as it is supposed to, we could see another test of the resistance at 17.87. Above this level, 19.48 (28 January low and 20 April high) forms an additional upside barrier. The bulls will have clear skies to aim for the 22.26 resistance (31 March high) once they achieve clearance of 19.48.
On the flip side, the 15.88 support line breakdown opens the door toward the 14.31 support level. Below this point, the 15 March 2022 low at 13.16 becomes the new target for the bears.
Nio: Daily Chart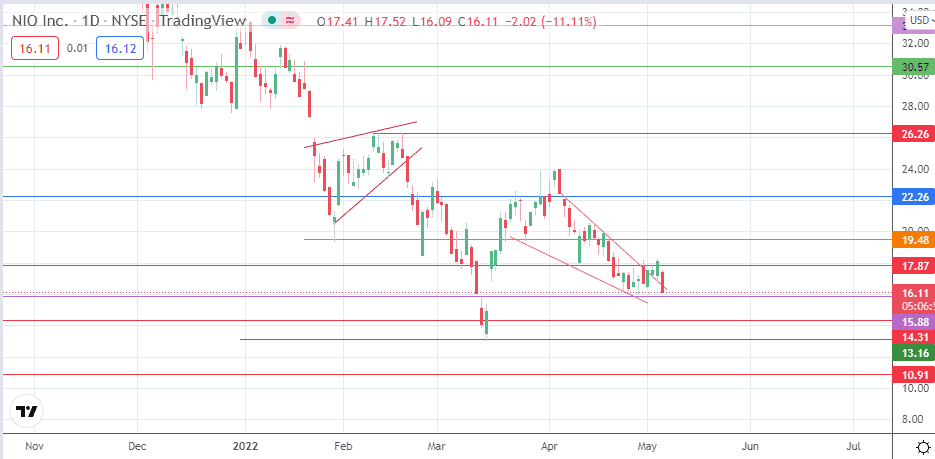 Follow Eno on Twitter.