The Nikkei 225 and the USD/JPY exchange rate plunged on Tuesday after the Bank of Japan (BoJ) delivered its interest rate decision. The Japanese yen strengthened to 133.17, which was about 12% above its lowest level in 2022. On the other hand, the Nikkei 225 index plunged 26,130, which was the lowest level since October this year.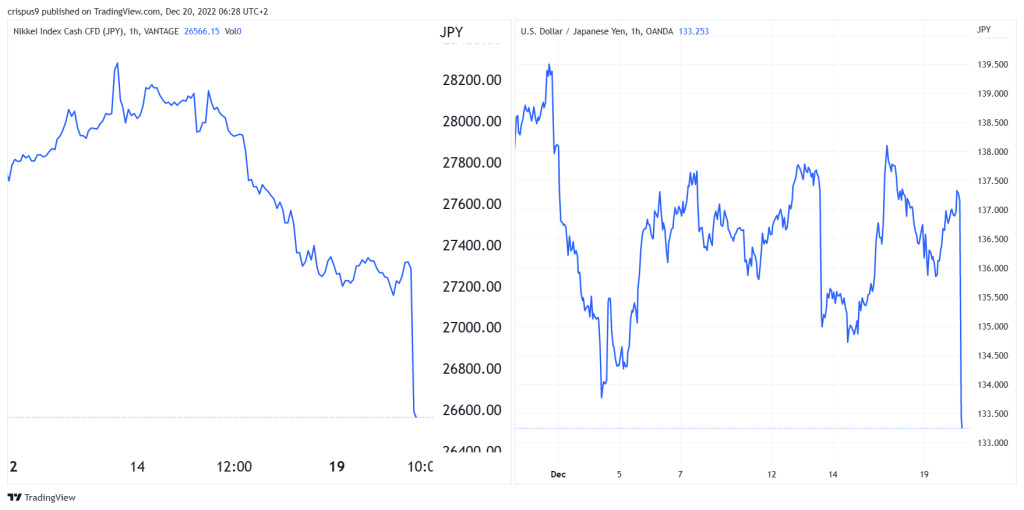 BoJ interest rate decision
The Nikkei 225 and USD/JPY exchange rate plunged hard on Tuesday morning after the latest decision by the BoJ. In its final decision of the year, the BoJ decided to leave interest rates unchanged where they have been for years. The main catalyst was that the bank decided to expand the range of its 10-year government bond yield. It shifted this range from -0.25% to -0.50%. 
By doing that, the BoJ wanted to improve the market functioning and encourage formation of the yield curve. It also wants to do that while still maintaining accommodative policies, 
The BoJ has been one of the most dovish central banks this year. While other countries leading central banks like the Federal Reserve and the European Central Bank have hiked rates several times, the BoJ has decided to leave rates in the negative side.
Just last week, the Federal Reserve sounded hawkish as it hiked interest rates by 0.50%. It warned that it will continue hiking and implementing quantitative tightening in the coming year. Other central banks like the Swiss National Bank, BoJ, and Bank of England also hiked by 50 basis points.
Top Nikkei 225 constituent movers
Most Nikkei constituents crashed after the BoJ decision. Mitsubishi Motors stock price crashed by 8.25%, making it the worst performer in the index. It was followed by Hino Motors, Mitsubishi Estate, Fujikura, and Subaru Motors. Other auto stocks like Nissan, Mazda, and Toyota also plunged by more than 4%. Softbank stock declined by 4.7%.
On the other hand, the best-performing Nikkei 225 constituents were Resona Holdings, T&D Holdings, Chiba Bank, Concordia Finance, Mitsubishi UFJ, and Shensei Bank.
Nikkei 225 forecast
The 4H chart shows that the Nikkei index has been in a strong bearish trend in the past few days. The sell-off continued on Tuesday after the BoJ decision. As it dropped, it managed to move below the important support level at 27,425, which was the lowest level on December 8. It also declined below the 25-day and 50-day moving averages.
Therefore, the Nikkei 225 will likely continue falling as sellers target the next key support at 25,000. A move above the resistance point at 27,000 will invalidate the bearish view. This view was in line with my most recent Nikkei index forecast.