The near Protocol Price surged on Wednesday as confidence returned to the Cryptocurrency market following Saturday's volatile price action.
NEAR's (NEAR) best one-day performance in six weeks extended the layer-1's recovery from the weekend low. At the current price, the NEAR token has gained around 50% over the last four days. As a result, the blockchains' market cap has returned to $5.3 billion, ranking it the 35th most-valuable cryptocurrency behind Filecoin.
NEAR Protocol is an L1 blockchain like Solana and Cardano that aims to take market share from Ethereum. The protocol uses a variation of sharding which improves the blockchain's capacity, enabling 100,000 Transactions per second (TPS) whilst keeping fees close to zero. The so-called Ethereum-killers have come to prominence in 2021 due to the Ethereum network's ridiculously high gas fees. Subsequently, the NEAR token reached a high of $13.433 in October, a gain of almost 1,100% year-to-date. Although since then, the price action has been highly volatile, resulting in NEAR losing half its value at Saturday's low. However, the recent bounce has put the token back on the path to double-digits.
NEAR Token Price Forecast
The daily chart shows the NEAR protocol price has recovered the 100-Day Moving Average at $8.845, which now acts as the first support level. However, a descending trend line at $10.150 has so far capped today's gains (high $10.144).
If the price successfully clears trend resistance, I expect it will extend into the $12.000-$12.500 range. However, failure could lead to a test of the 100-DMA's support. Furthermore, a close below the DMA could trigger an extension towards trend support at $6.500.
In my opinion, the downtrend is the dominant theme as long as the price remains below $10.150. Therefore, I am cautiously bearish below $10.1500 with a $6.500 price target. However, a close above the trend invalidates this view.
NEAR Protocol Price Chart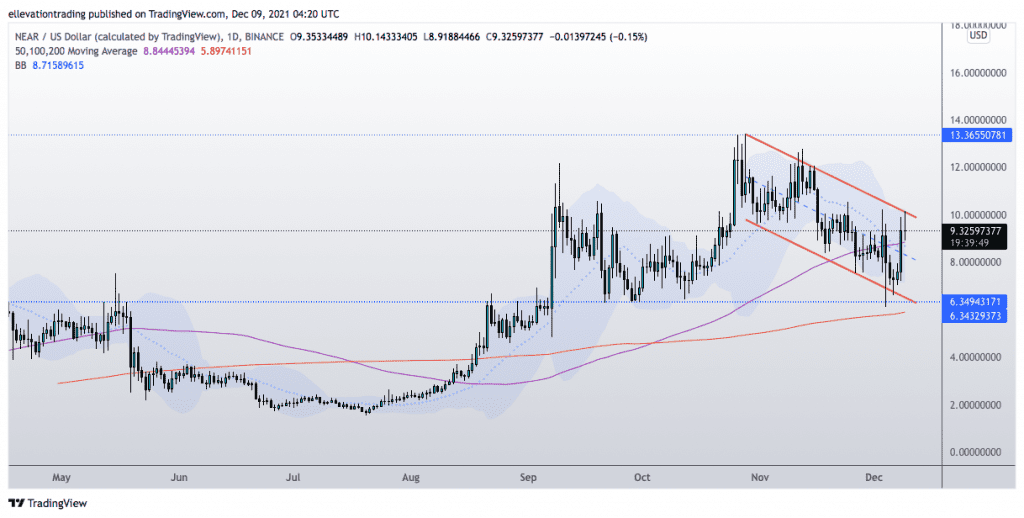 For more market insights, follow Elliott on Twitter.