The Nasdaq 100 index looks set to make a muted open to the week's trading session, as the index futures trade 0.41% lower. The index looks to surmount a key resistance to continue the solid performances in the last four trading sessions. The Nasdaq 100 index would be looking to make it 5 out of 5 winning sessions. The tech-heavy index has been on the advance after the Fed raised interest rates by 25 bps on 16 March. Last week's performance was the best the Nasdaq 100 index has displayed since November 2020.
Nasdaq 100 latest news
Part of the trigger for the advance was the announcement by the Chinese government that it would support local companies that wished to secure overseas listings. The anticipation of a new round of Chinese stocks entering the US markets as ADRs prompted renewed interest in tech stocks, some of which have heavy exposure to China. This also prompted investor interest in the Hang Seng index. On a technical level, the index has completed the breakout from a key pattern and looks to consolidate this breakout by continuing the advance move. However, there are several obstacles along the way.
Fed Chair Jerome Powell is due to speak at two events in the way of fundamentals. One of these is on Monday, where he will present his perspective on the US economic outlook at the National Association for Business Economics Annual Economic Policy Conference in Washington DC. On Wednesday, he will participate in a virtual panel discussion at the Bank of International Settlements Innovation Summit. Both events could throw some market-moving statements from the Fed Chair.
Nasdaq 100 Index Outlook
The breakout of the falling wedge pattern on the daily chart of the Nasdaq 100 index has met resistance at the 14419.6 price mark (4 February low, 3 March high). For the measured move towards the 15639.7 resistance to be accomplished, the bulls must take out this immediate resistance and subsequent ones at 14811.4, 15006.3, and 15201.2.
Otherwise, a rejection at the current resistance truncates the measured move and sets up a retest of the 14047.4 price mark in a role-reversed support position. If the bulls fail to defend this support, a decline towards 13764.7 appears inevitable. The bulls may still have a chance at initiating a new push to the north following a bounce at this price mark or the immediate support above it.
Nasdaq 100: Daily Chart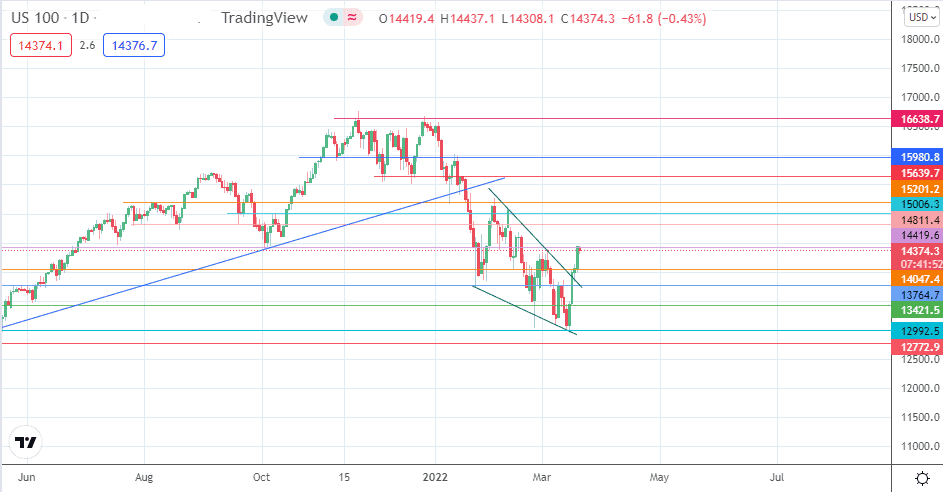 Follow Eno on Twitter.