Following Tuesday's 1.52% advance, the Microsoft stock price forecasts remain bullish in fulfilment of the breakout from the neckline of the double bottom pattern. This move extends the expected measured move, which mirrors the advance from the 274.75 lows (8/19 July 2021 lows). After opening lower, the bulls seized the initiative, reversing the earlier session losses to close 1.52% higher. However, this advance is likely to encounter resistance around the corner.
The initial selloff seen in the market was a direct reaction to the position of the Department of Justice on new legislation aimed at curbing the market influence of the big tech companies. Microsoft was one of the companies in view, spooking investors slightly. However, the bulls were able to ignore the developments from the DoJ to post a positive day.
Not even the report from a whistleblower, Yasser Elabd, on alleged corrupt practices within Microsoft's Licensing Solution Partner network could deter market demand from the stock, enabling it to finish higher for the second straight day.
Microsoft Stock Price Forecast
Tuesday's advance has brought the price within touching distance of the 317.46 resistance (20 December 2021 and 12 January 2022 lows). A break of this price mark allows the measured move from the completion of the double bottom to continue, targeting completion at the 329.66 resistance (10 November 2021 and 3 January 2022 lows).
Additional resistance is seen at the 344.36 (19 November and 29 December 2021 highs). On the other hand, rejection at 317.46 allows for a pullback towards the neckline of the completed double bottom at 305.54. Below this level, additional support is seen at 297.77, with 290.28 and 281.13 forming new pivots to the south. 
Microsoft: Daily Chart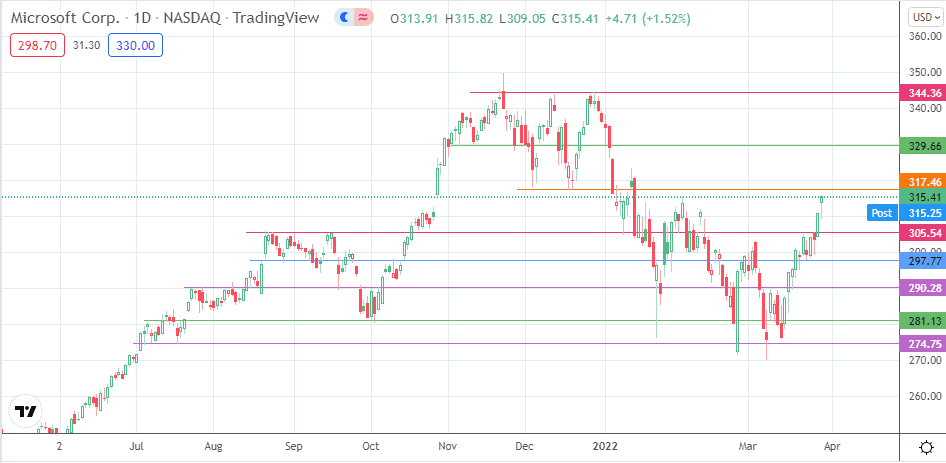 Follow Eno on Twitter.