The MATIC price bounced hard from the $1.500 support area on Saturday and is now closing in on its highest closing price in seven months. But can MATIC punch through the resistance, or will sellers again cap the gains?
Polygon (MATIC) is up over 50% from the weekend's lows as buyers emerged as the price approached a significant support level. As a result, the MATIC token is trading close to its highest level since May, just 25% below its all-time high, making it one of the best performing blue-chip cryptocurrencies this week.
The recent strength has increased Polygon's market cap to $16.2 billion, flipping Crypto.com Coin to become the 14th most-valuable cryptocurrency. However, the overhead supply between $2.250 and $2.500 marked cycle tops in the past. On the other hand, if the MATIC token absorbs the scale-up selling, it could establish a new floor price.
Polygon Price Forecast
The daily chart shows the confluent support of the 100-DMA ($1.558), the 200-DMA ($1.420) and the rising trend at $.420 continue to underpin the 2021 bull market.
Above the market, the highs from May 27th and December 4th around $2.500 is the immediate resistance. And successful clearance of $2.500 on a closing basis should bring the $2.900 all-time high into the picture.
In line with my last MATIC report, I remain cautiously bullish on Polygon as long as it remains above $1.500. However, a failure to clear $2.500 in the coming sessions would suggest a near-term top. Therefore, I feel that buying at the current level is too risky and expect the price to retrace in the next few days.
MATIC Price Chart (Daily)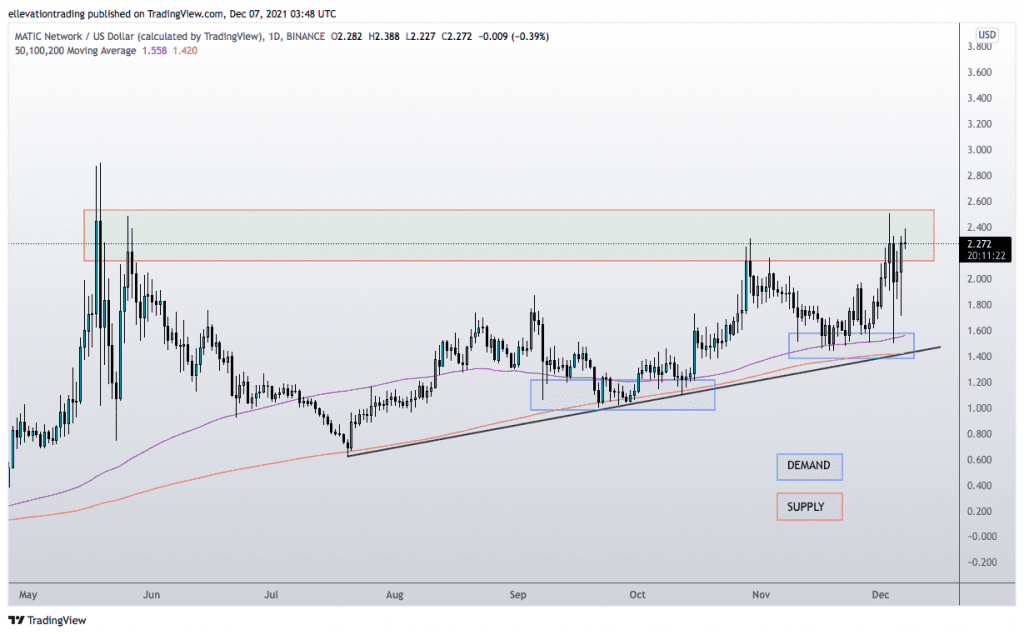 For more market insights, follow Elliott on Twitter.