The Lloyds (LLOY) share price has held steady in the past few days as investors digest the ongoing bank earnings. The shares have risen to 46.40p, which is about 14% above this month's low. They have done well even as concerns about the UK economy remains and as investors wait for the upcoming interim Q1 results scheduled for next week.
Bank earnings review
Lloyds Bank is the biggest bank in the UK with over 26 million customers. This means that more than a third of UK citizens have an account with the bank. As a result, the company generated over 5.9 billion in profit after tax, helped by a net impairment credit. It also returned about 3.4 billion to shareholders in 2021 through a combination of buybacks and dividends.
Lloyds Bank is now in a transition through a strategy known as Helping Britain prosper that was unveiled recently. It aims to achieve this by growing its revenue through diversification. It will do that by bringing new products to consumers. Also, it aims to strengthen its cost and capital efficiency and maximize the potential of its people and data.
The Lloyds share price is also rising as investors digest the ongoing bank earnings in the US. Most big banks have reported weak earnings as deal-making slows. Wells Fargo reported revenue of $17.59 billion, which was lower than the expected $17.8 billion. Citigroup also reported weak earnings as it warned that it could lose $3 billion in Russia.
A positive thing about Lloyds is that it does not have any exposure to Russia. Also, the bank is mostly focused on retail banking, meaning that it does not have any exposure to investment banking, which is slowing down.
Lloyds Bank will publish its results. Analysts expect the bank's net interest income fell from 2.88 billion pounds to 2.67 billion. This decline will be because last year's Q1 benefited from the capital it set aside in the previous year. They also expect that its net income fell to 3.66 billion pounds while its CET1 ratio rose to 16.7%.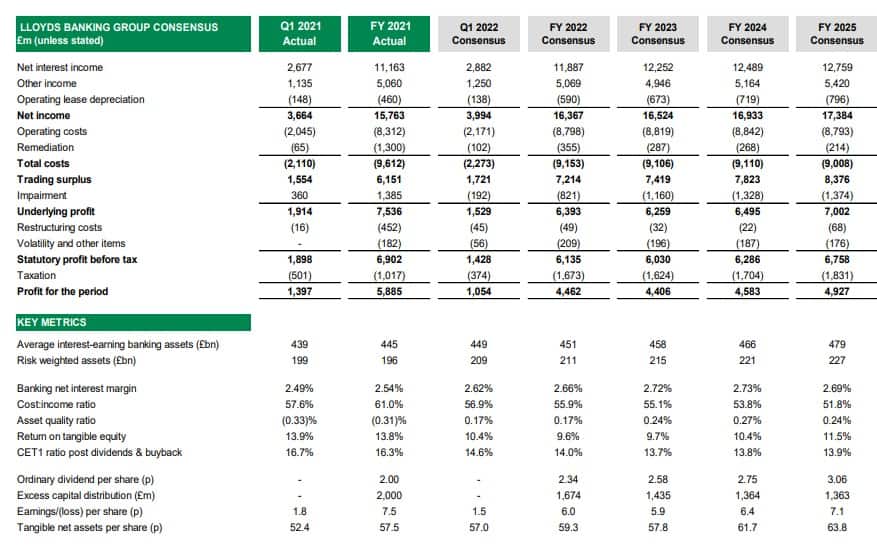 Lloyds share price forecast
The daily chart shows that the LLOY share price has been in a bullish trend in the past few days. The stock is hovering along the 25-day and 50-day moving averages while the RSI has moved slightly above the neutral level at 50. It is also slightly below the ascending channel shown in green.
Therefore, there is a likelihood that the Lloyds share price will keep rising as bulls target the key resistance at 50p. This outlook will be confirmed if it manages to move above the lower side of the channel.