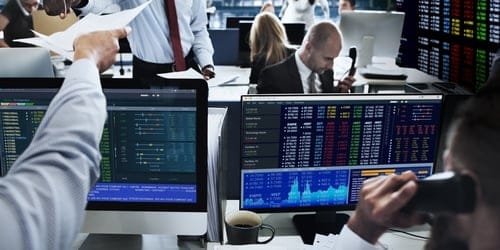 Shares
Lloyds Share Price Gains, But Significant Headwinds Persist
[adrotate group="3″]
Lloyds share price is up today, briefly halting the relentless slide on the stock, despite the impending retirement of non-executive director of the company, Simon Henry. Not even the gloomy outlook of the company's stock by Goldman Sachs was enough to dampen the bullish sentiment on the stock for today. However, significant headwinds may cap this upside if the predictions of Goldman Sachs are anything to go by.
On Friday, Goldman Sachs said it was still placing a SELL recommendation on the stock, even though it had seen some easing in the bearish fundamentals on Lloyds share price. Goldman Sachs also noted that defaults on loans in the bank's portfolio were likely to rise. However, Goldman sees the light at the end of the tunnel when revenues stabilize, saying that emphasis now lay on the recovery of the labor market following coronavirus financial support packages. The price outlook for Lloyds share price by Goldman Sachs currently stands at 27p.
Lloyds share price shook off these comments, and as at the time of writing, it was up by 2.06&.
Technical Outlook for Lloyds Share Price
Today's price candle bounced off the 25.875 support line, allowing bulls a chance to build on this. Follow-through buying is required to target the 27.470 resistance line, with 29.765 and 31.250 lining up as potential resistance targets.
Conversely, a further retreat could be on the way if any price ascent is halted at the 27.470 resistance, or if there is a breakdown of the 25.875 support on lack of follow-through buying. The daily chart shows that downside price activity has allowed Lloyds share price to break downwards from the range formed by the 27.470 floor and the 37.475 ceiling. Within this context, the move towards the 27.470 price level from the present support may be a pullback move to retest this floor. A rejection opens the door for the price to resume the downside move, which could target 24.745 or even 22.700 further down the road. This would tally with the price outlook by Goldman Sachs.
[adrotate group="5″]
Don't miss a beat! Follow us on Telegram and Twitter.
Lloyds Share Price Chart (daily)
More content
[adrotate banner="49″]