As indicated in our last Litecoin price prediction, the LTC price is facing huge resistance from the 0.618 Fib retracement level. This Fib level comes into play by connecting the 20th May high of $74.29 to the June low of $40.32. Nevertheless, despite getting rejected from this $62 level twice already, LTC is retesting it once again. A reclaim of this level is likely to trigger a huge bullish move.
Litecoin is one of the altcoins whose price action is closely correlated to that of Bitcoin. There was a time when Litecoin was considered as Silver to the digital gold, i.e., Bitcoin. However, this narrative is not that popular anymore as the coin immensely underperformed in the last year's bull run.
LTC reached its all-time high price level of $410 in May 2021. This level was barely above its 2017 ATH, unlike Bitcoin, which went almost 250% above its 2017 peak. At the time of writing, Litecoin price is nearly 85% down from last year's highs and now trading at $62.45.
According to Litecoin news today, the payment network Mercuryo is now supporting LTC for global payments. The 11-year-old cryptocurrency would now be available across all Mercuryo products.
Litecoin Price Prediction
Technical analysis of the LTC USD chart shows a breakout of the symmetrical wedge pattern. Although this breakout is not supported by volume, the price has kept on making higher lows. As described above, the $62 price level has become a major hurdle in the price recovery. Nevertheless, due to multiple retests, this resistance seems to have weakened, and hence it might get broken in the next attempt.
Reclaim of the $62 price level would make the Litecoin price prediction of $74 very much possible. This target comes by the confluence of the measured move of wedge breakout and a supply zone. However, it is strongly recommended to keep the stop losses below $51.96 as a breach of this level would invalidate our price analysis. You may buy Litecoin and other cryptocurrencies by signing up on crypto exchanges like Binance, Houbi, BYBIT, and Kucoin.
Litecoin Daily Chart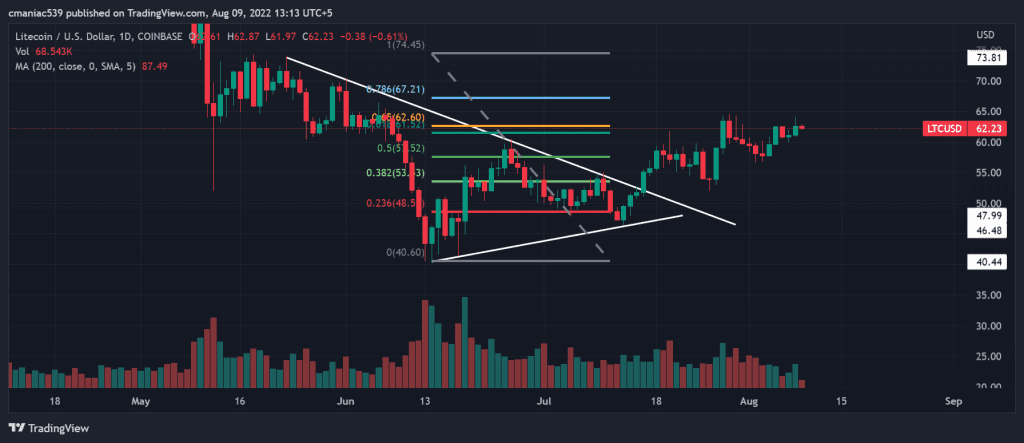 InvesitngCube's Premium S&R Levels
If you're trading in these tough conditions, then subscribing to Investingcube's Premium S&R Levels indicator could give you an edge. This indicator always keeps you updated on all the latest trade setups. At the moment, S&R Levels is suggesting an LTC long with an entry of $61.84 and a target of $66. The stop loss of this trade must be below $57.2.