As the Litecoin price approaches a fundamental level of support, we discuss LTC's technical outlook and highlight the potential outcomes.
Litecoin (LTC) has turned lower on Tuesday and down 8% at $146.10 as the broader market risk-off intensifies. In the last two days, Bitcoin's $4,000 reversal from Sunday's high of $50,800 high has reignited the sell-off that started earlier this month. As a result, Litecoin has given back the gains made in September through November and is up just 16% in 2021. Subsequently, LTC is losing ground to altcoin rivals, and the current $10 billion market cap now ranks the former high-flier as the 18th most-valuable cryptocurrency.
What happens to the Litecoin price next undoubtedly hinges on Bitcoin's performance. As I write, BTC is holding around $47,000, but the momentum is bearish. And if BTC continues to slide, I expect Litecoin to come under considerable pressure. Of course, it goes without saying that if BTC turns higher, LTC should do the same. However, the immediate danger is lower.
LTC price Forecast
The daily chart shows the Litecoin price is trading just above the horizontal support at $140.00. If LTC breaks down below $140.00, the next target is the $120.00 area. However, the significant support comes at the summer lows, around $104.00.
Above the market, the 200-Day Moving Average at $172.40 is the notable resistance. Subsequently, below the 200-DMA, I am bearish with a $104.00 price target, but a close above $172.40 invalidates the view.
Litecoin Price Chart (daily)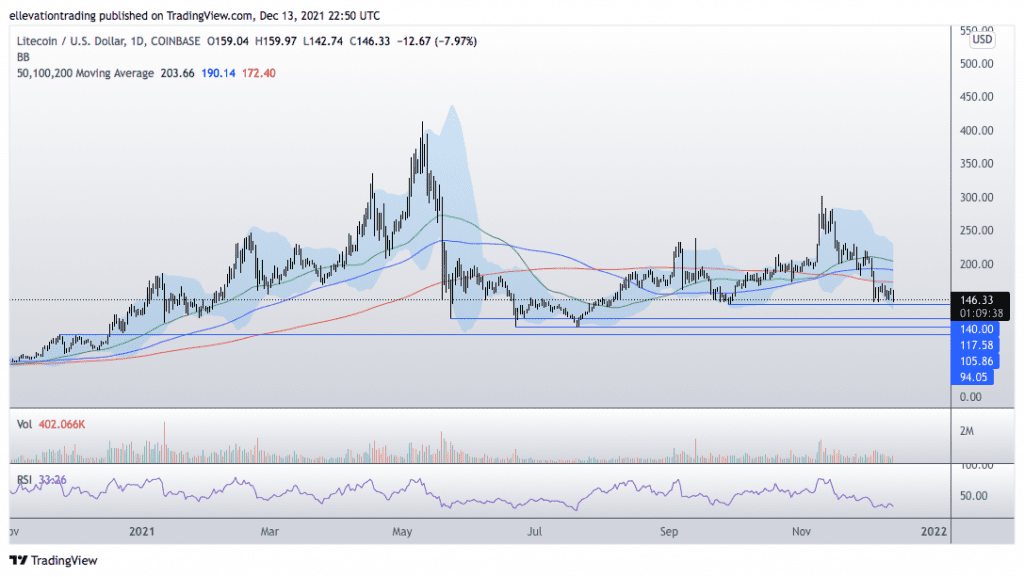 For more market insights, follow Elliott on Twitter.