The Litecoin price dips are reversing at increasingly higher levels, suggesting buyers are gaining in confidence.
Litecoin (LTC) is firmer again on Tuesday, trading at $207.41 (+3.9%), as risk appetite returns following last week's Omicron-related shake-out. But despite the bounce, it's still around 30% below the November 10th high. In that time, LTC's market cap has dropped from $20 billion to about $14.3b, which now ranks it as the 16th most valuable cryptocurrency.
Bitcoin and Ethereum's ascent to record highs earlier this month lifted LTC to a six-month high of $302 on the 10th. Since then, several factors have contributed to weakness, including the SEC rejecting a spot Bitcoin ETF and talk of an Indian Crypto ban. However, the biggest threat to markets appeared last week as risk assets tumbled following the emergence of the Omicron covid variant in South Africa.
Global Indices and Crude oil tanked on Friday, taking the crypto complex along for the ride. Subsequently, the litecoin price traded as low as $182 over the weekend before bouncing back above $200 as fears eased. Notably, although experts have downplayed the Omicron threat, the markets haven't fully recovered, suggesting some players are de-risking. However, it's also worth noting that LTC's lows are getting higher, which could mean buyers believe the worst is over.
LTC Price Analysis
The daily chart shows the Litecoin price is trending lower overall. However, LTC has reclaimed the 100-Day Moving Average at $192 and should soon climb above the 50-DMA at $209.
In that event, the $225-237 range becomes the next significant obstacle on the upside. Above $237, a logical target is the November 10th high of $302.
Considering the price is above the 100 and 200-DMA's, it should continue recovering from last week's sell-off. On that basis, I expect LTC will trade into the $225-237 range in coming sessions. However, it's too early to say if LTC can build enough momentum for a sustained push towards $300. Furthermore, the optimistic view relies on Litecoin holding above the 200-Day average, and therefore a close below $275 invalidates this thesis.
Litecoin Price Chart (Daily)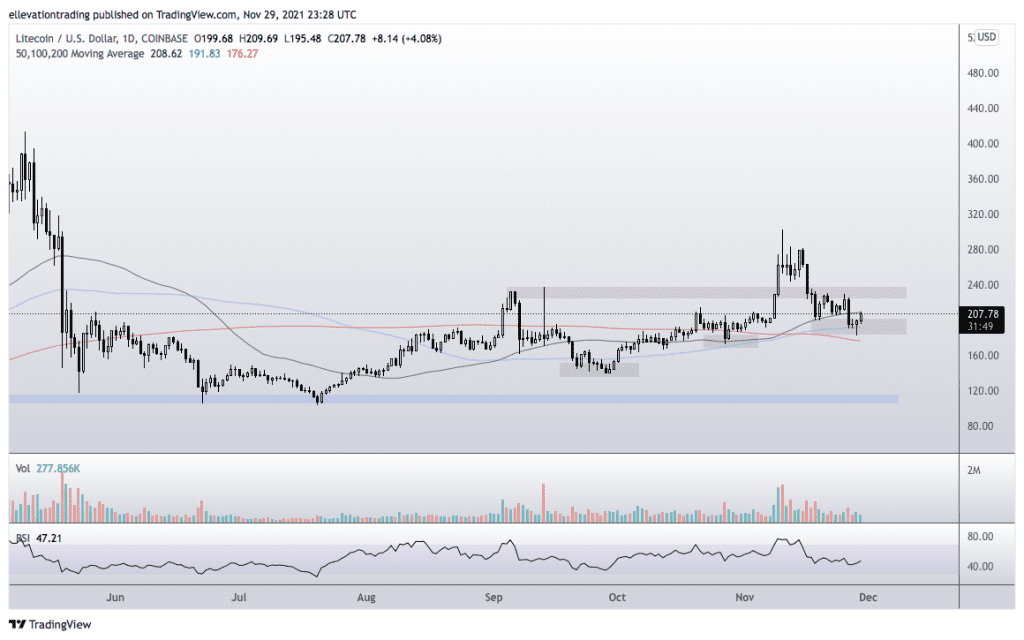 For more market insights, follow Elliott on Twitter.