The IoTeX price made a stunning comeback on Wednesday, surging above its highest-ever closing price to $0.1500. IoTeX (IOTX) is now up 86% in November and almost +600% since August. But are the gains sustainable, or will IOTX return to earth with a thump?
IOTX, the native token of the decentralized Internet of Things (IoT) blockchain IoTeX, is on a wild ride. The token spent most of September and October trading sideways in a wide channel between $0.050 and $0.093. But on November 3rd, the price suddenly jumped 69% to $0.1480. Furthermore, the bullish momentum carries on the next day, sending IoTex a further 50% to a lifetime best of $0.1868.
However, the token could not hold onto the 140% two-day rally and somehow finished -7% on the day. The price continued to drift lower in the next four days until igniting on Tuesday. As a result, IoTeX's market cap is back to $1.2 billion, ranking it the 95th-biggest cryptocurrency behind Bitcoin Gold (BTG).
IOTX Price Analysis
The daily chart shows the IoTeX price is testing the horizontal resistance at $0.1500. If the token clears the $0.1500 level on a closing basis, it could encourage the parabolic move to extend to a new all-time high. However, the Relative Strength Index of 73.76 indicates IOTX is vulnerable to a correction.
If the price turns lower, $0.0930 is the first significant support level. Below that, a drop to the 100-Day Moving Average (DMA) at $0.0705 is likely.
Both scenarios have equal chances of playing out, considering the high volatility recently. Therefore, until the market normalizes, I am neutral on IOTX.
IoTeX Price Chart (Daily)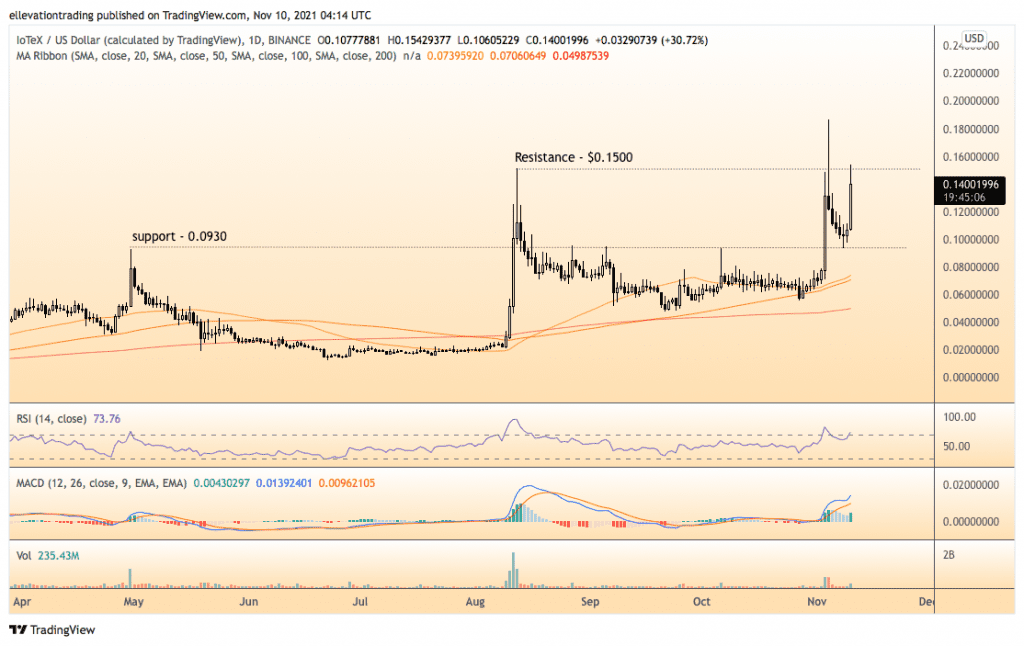 For more market insights, follow Elliott on Twitter.