The IoTeX price succumbed to gravity in the second half of November, sliding from $0.265 down to significant support at $0.1500.
IoTex (IOTX) is slightly firmer on the first trading day of December. Currently, the IOTX token is changing hands at $0.1564 (+1.34%), just above the former all-time high of $0.1510 in August. IoTeX's market cap has dropped from a peak of $2.4 billion to just under $1.5b over the last three weeks, reducing its position to the 85th most valuable cryptocurrency behind Immutable X.
Like many altcoins, IOTX reached a record price at the start of last month. Between the 3rd and 10th, the token jumped almost 300% as buyers rushed to find the next multi-bagger investment. However, since then, the price has been trending lower as those same investors question the magnitude of the price appreciation. Subsequently, the bears have taken control and may soon force the price below $0.1510, which could spell danger for longs that arrived late in the game.
IOTX Price Forecast
The daily chart shows the IoTeX price has reached a critical juncture. In simple terms, if IOTX falls below $0.1510 on a closing basis, I expect to see a 38% decline towards the $0.0930 support.
On the other hand, if the price holds above $0.1510, it will reinforce the support's relevance. In that event, the bulls may grow in confidence and push the price higher towards the all-time highs.
In my opinion, the bearish scenario looks the likelier of the two. Therefore, I expect a test of $0.0930 in the coming sessions. However, the sell signal is triggered if IOTX closes below $0,.1510. Furthermore, if it's activated, a close back above $0.1510 will invalidate the short thesis.
IoTeX Price Chart (Daily)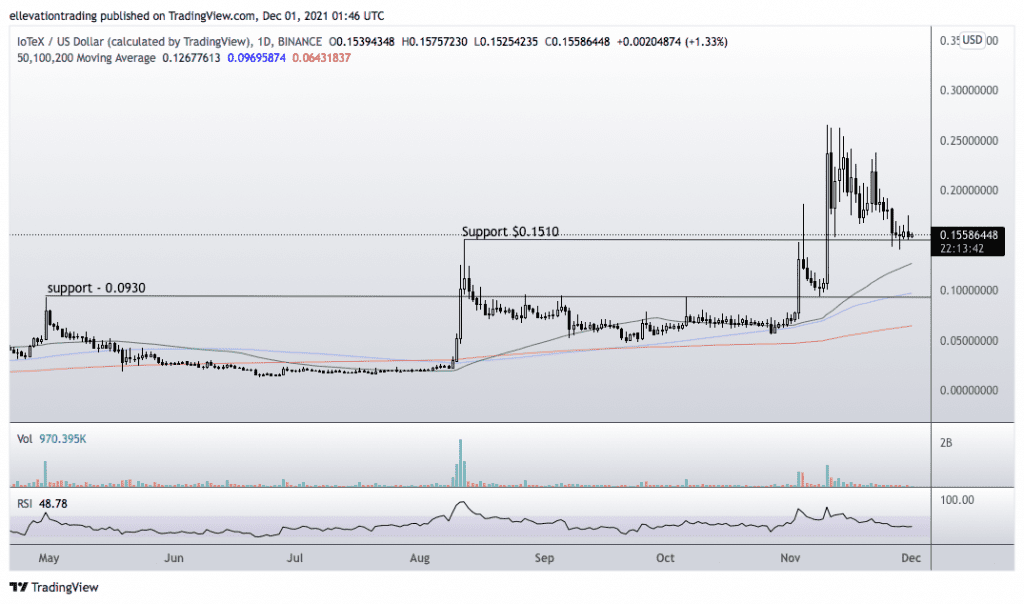 For more market insights, follow Elliott on Twitter.