Intel (NASDAQ: INTC) stock price was punched in the face on Thursday's extended hours after the chip-maker published extremely weak results that put its dividend at risk. The shares crashed by more than 10% and settled at $27.17, which was the lowest level since January 4 of this year. This decline saw it erase some of the gains that it had made towards the earnings season.
Please note that this article was originally written on January 13 of this year.
What is Intel?
Intel is an American company that builds computer chips that are used in all industries. For a long time, the company had the biggest market share in the industry as it supplied companies like HP, Dell, and Toshiba its chips. Recently, however, the company has seen its market share shrink amid rising competition from the likes of AMD and Nvidia. At the same time, companies like Apple and Microsoft are building their chips internally.
Today, Intel provides its chips to companies in most industries. For example, OEMs like Dell and HP still buy Intel's products. Similarly, companies in sectors like automotive, industrial, and cloud computing use Intel's chips in various ways. Intel has a substantial market share in enterprise computing industries like data centers.
Latest Intel news
There have been several important Intel and semiconductor news in the past few weeks. First, Taiwan Semiconductor, the biggest semiconductor manufacturing company, published mixed results. Its revenue for the fourth quarter rose by 19% year-on-year to $19.3 billion. The company announced plans to lower its spending in 2023 as chip demand weakens.
Second, Intel stock reacted mildly to a Bank of America analyst downgrade citing lower PC sales in 2023. Demand for computers has been relatively weak in the past few months after it saw record growth during the pandemic. According to IDC, PC sales volume will drop by 5.6% in 2023 to over 281 million units. That's a bad sign for Intel and other chip stocks.
Third, Intel recently launched a new processor that is selling for $699. The core 19-13900ks is the first 6 GHz 320W CPU. 
Finally, the most important Intel news was the company's Q4 earnings. The company's revenue of $14 billion badly missed analysts' expectations and was down by more than 28% from the same period in 2022. All parts of its business, including data centers, weakened during the quarter.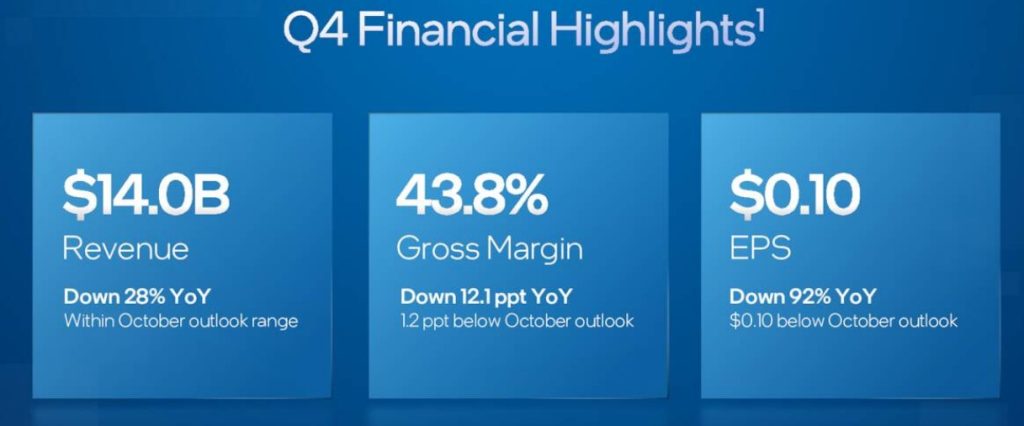 Why Intel share price tumbled
There are several reasons why the Intel stock price collapsed in 2022. As noted above, PC sales have been in a strong downward trend in the past few months as inflation rises. Moreover, PC buyers had already purchased their computers during the pandemic meaning that they are still new.
Second, investors are concerned about Intel's spending. Intel announced that it will invest $100 billion in Ohio. It also announced that it will spend $36 billion to make chips in Europe. The $136 billion price tag of these investments is much bigger than the company's total market cap.
Third, Intel stock price plunged because of the rising inventories among chip companies. As supply chain challenges worsened early in 2022, companies boosted their production. Sadly, this robust improvement came at a time when demand was cooling. Further, like other companies, Intel stock tumbled because of the hawkish Federal Reserve.
What is the Intel dividend?
Intel has been beloved for its dividends although some investors are concerned about their safety. It has a forward dividend yield of 4.89%, which is bigger than the S&P 500 average. Its forward annual dividend is $1.46. The company has a dividend payout ratio of 50%, which means that it can handle returning funds to investors.
Intel has consistently grown its dividends in the past 8 straight years. However, with the company in a loss-making territory, there is an increased risk of a dividend cut in the coming years.
Intel revenue and balance sheet
Intel's business has been going through a tough time as competition rises. The company's revenue rose from $62 billion in 2016 to over $79 billion in 2021. However, Intel's revenue in the past four straight quarters was just $69 billion. Intel's net income has been all over the place. It moved from $9.6 billion in 2017 to over $21 billion in 2019. It has made a net profit of $13.3 billion in the past four quarters.
Intel has a strong balance sheet with over $22 billion in cash and short-term investments. Its total assets are worth about $174 billion. However, the company has a mountain of debt. Its long-term debt totals about $37 billion. It has no short-term borrowings.
Is Intel a good investment?
Some investors believe that Intel is a good blue-chip stock to buy. Besides, the company has a strong balance sheet and is a major player in industries that are seeing fast growth. Other investors believe that the company is a perennial laggard that is facing significant market share erosion from the likes of AMD. As shown below, AMD is narrowing its gap with Intel.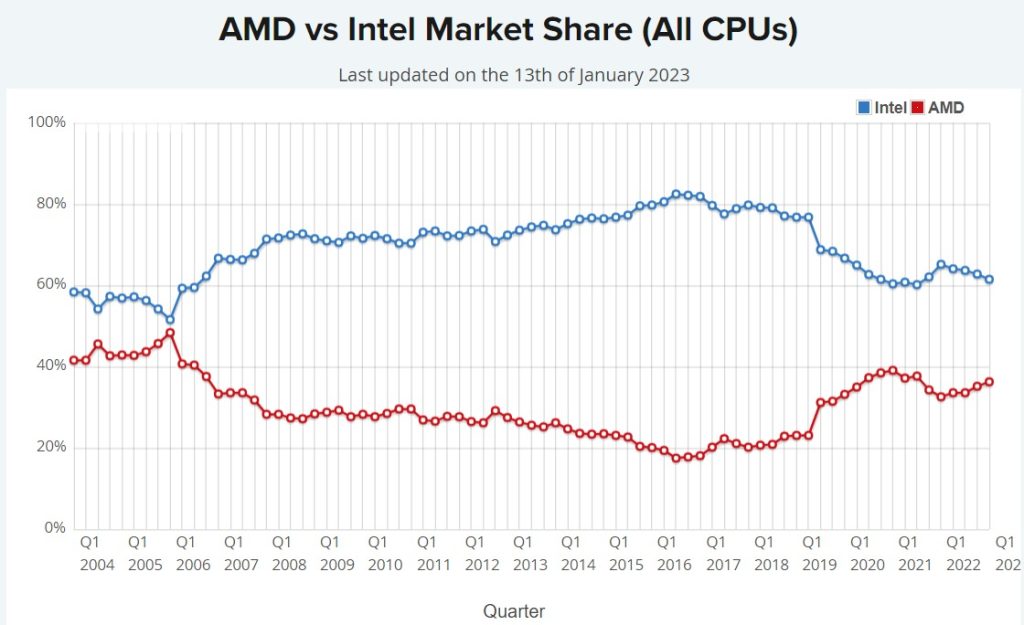 Intel vs AMD: Which is the better chip stock for 2023?
Intel valuation
Intel has a market cap of over $123 billion. It has a trailing PE ratio of 9.38, which is lower than that of the S&P 500. Its forward one-year PE ratio is 15.50, which is also lower than that of its key peer companies like AMD and Nvidia. Therefore, based on its PE multiples, the company is relatively cheap. But cheap is often expensive since Intel lacks clear catalysts.
On the other hand, a DCF calculation shows that Intel is overvalued. According to Simply Wall St, the company should be trading at $18, which is lower than the current $30.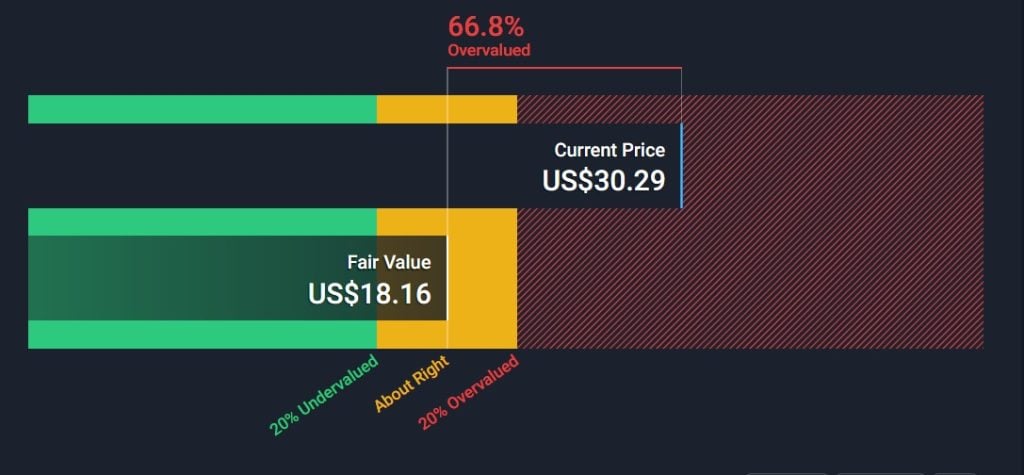 Intel stock analysts' forecasts
Analysts have a mild look at the INTC share price. Harlan Sur of JP Morgan has a target of $32, which is where the stock is at. On the other hand, analysts at Credit Suisse, Bernstein, and Goldman Sachs have targets of below $30 as shown below. In total, the average target for the stock is about $32, which implies no upside for the stock.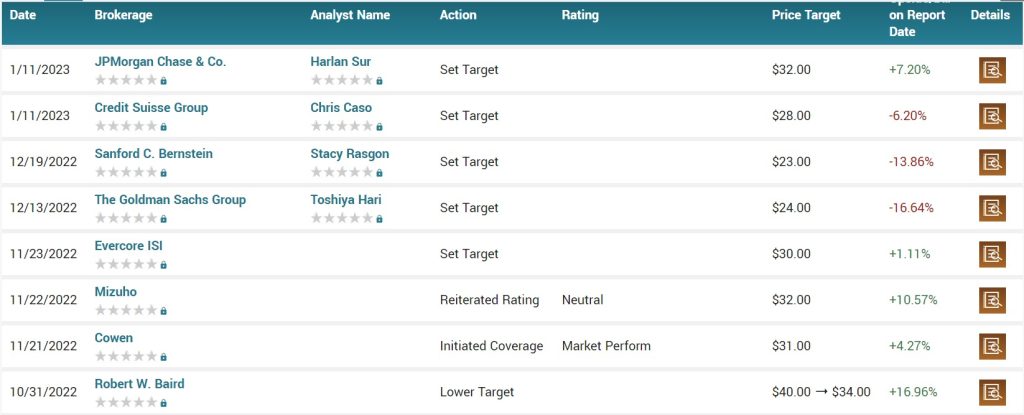 Intel stock price forecast 2023
The daily chart shows that the INTC share price has been in a bearish trend in the past few months. Recently, it has stabilised as the stock market has made a slow recovery. However, these weak earnings will likely trigger analysts' downgrades and a shift of tone by investors and analysts.
Therefore, I believe that the stock will continue slumping in the coming months and move it below the psychological level of $20.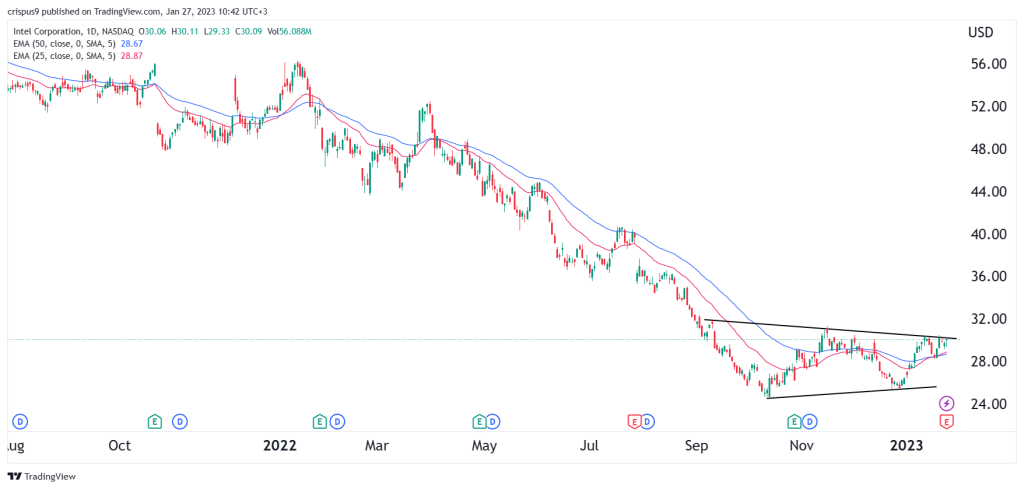 Intel stock price forecast 2025
It is difficult to predict where Intel share price will be in 2025. To do this prediction, we can use the weekly chart. In it, we see that Intel has been in an overall bearish trend in the past few years. In this period, the stock has remained below all moving averages. It is also below the important support level at $43.27, the neckline of the double-top pattern that formed between 2020 and 2021.
Therefore, the most likely scenario is where the stock rises to $43 in the next few years and then resumes the bearish trend. This is known as a break and retest pattern. As such, I suspect that Intel will be between $30 and $40 by 2025.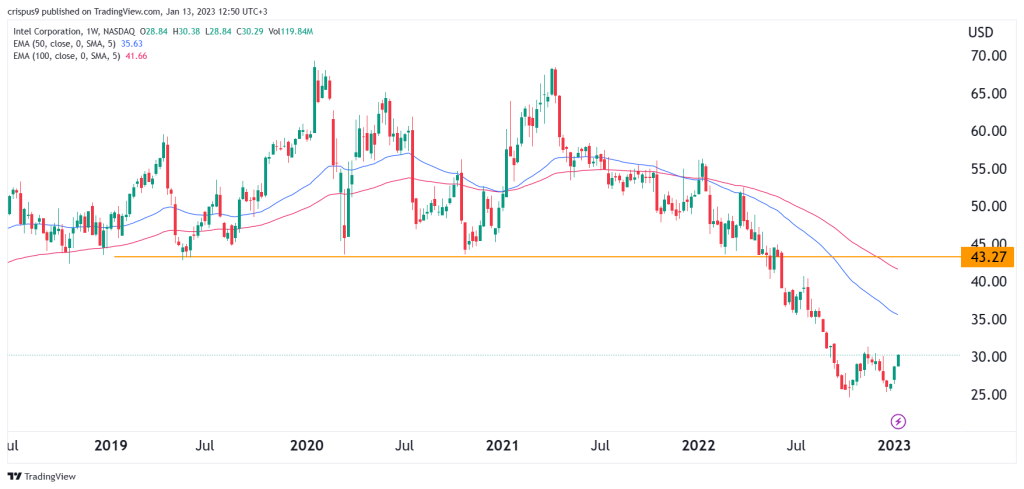 Intel stock price forecast 2030
It is more difficult to predict where Intel stock price will be in 2030. Besides, the past three years have shown us how difficult it is to make a long-term prediction. But, looking at the monthly chart shows that the 100 and 50-month moving averages are about to make a bearish crossover. This implies that Intel could be in pain by 2030. In this period, the stock will likely be below $20.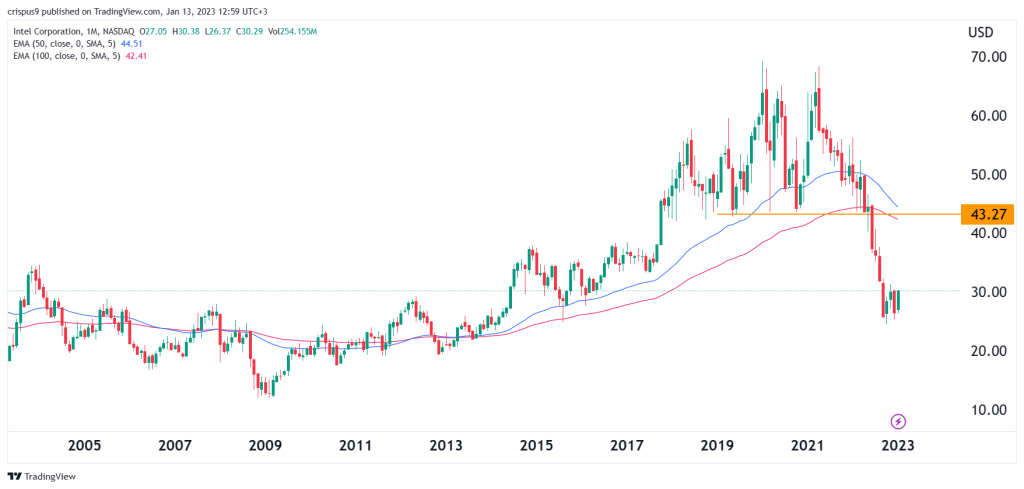 Is Intel a buy, hold, or sell?
As noted above, I believe that Intel faces significant challenges ahead as competition and geopolitical tensions rise. As such, while I expect the shares to recover modestly in 2023, the long-term outlook for the company is bearish.