Learning about the DeFi market and how to invest the right way is an overwhelming experience for a beginner investor. Although the past few years have seen an upsurge in the number of individual investors moving towards the stock exchange, DeFi is still lagging.
HyperDex frames itself as the solution to this problem, breaking down barriers to entry and making investing in DeFi as simple as possible. By grouping investors into 'Cubes', the platform allows for leverage while offering simplified solutions to complex DeFi investment strategies.
Whether you're an experienced trader on DeFi platforms or are just getting started in this new financial world, HyperDex provides an easy entry solution and a range of fantastic tools that make this investment path a breeze.
What is HyperDex?
Acting as a DeFi asset management platform, HyperDex allows its users to enter into the world of decentralised finance, efficiently and effectively capturing the value of the service. By investing user capital into a range of HyperDex products, through staking and algorithms, HyperDex allows users to access DeFi even without prior knowledge.
Through these investments, an investor gains access to a passive strategy of managing their funds, taking advantage of the power of DeFi even if they don't have the time or knowledge to do so. Additionally, risks of DeFi associated with being a single investor are alleviated to some extent, with the platform providing a more extensive investment base for capital. 
Even if you have no prior knowledge of DeFi, HyperDex allows you to take control of your finances, automatically investing in a growing capital market. In addition, they aim to simplify DeFi for the masses, allowing everyone to invest in this industry effectively despite geographic location or background.
As the first step in the DeFi journey for many and a helping hand for DeFi enthusiasts, HyperDex is an all-in-one DeFi asset manager.
History
With 17 years of development behind the platform, the team behind HyperDex has extensive experience with software development, combining this with their expertise in forex trading. By examining main forex pair oscillations, the team developed proprietary algorithms based on statistical arbitrage, allowing them to take advantage of their movements.
Along with many investors, the team soon began to take notice of crypto cross pairs, their movements mirroring the oscillations seen within forex. Out of these observations, HyperDex was born, coming to fruition in early 2021.
In a short amount of time, HyperDex has made significant progress, having undergone their first funding and having a working beta application alongside their project website.
In their first round of funding, they raised $450k, with another pledged amount of $500k arriving shortly. Additionally, the project is both legally and financially structured through a Defied bank.
Key Features
As a complete DeFi asset management platform, HyperDex comes with a range of valuable tools that make investing easy for its users. Instead of blocking users from accessing DeFi solutions, HyperDex prides itself on accessibility, providing a range of financial tools that allow even beginners to invest in DeFi.
Currently, the three most important aspects of this platform are:
Hyper Token (HYP)
Cube Flow
Hypercubes
Let's take a look at these in more detail.
Hyper Token (HYP)
Searching for a method of enhancing the utility and productivity of the HyperDex platform, the Hyper Token (HYP) was created. As integrated into the platform itself, its value is derived from this connection, users increasing its value as HyperDex grows.
The native HYP token allows users to enjoy the features of HyperDex at a lower cost, decreasing transaction costs and incentivising trading through the token. Additionally, the token acts as a valuable benefit of early adoption to the platform, providing a reward token that incentivises adoption. This linked use case will boost users while further stabilising the user base.
Additionally, by attaching HYP as the native currency through which trades can be performed, HyperDex assures that the trading on the platform will become cheaper over time. As the user base grows and the token's value increases, lower carry-costs will be used later.
The Token Sale Phases have also been planned by HyperDex, ensuring a controlled release over time.
Cube Flow
Part of what draws users to this platform is HyperDex's offered passivity. They're able to offer passive trading due to their Cube Flow containers. Every investment on HyperDex is put into a particular container, each of these containers representing a different investment strategy and expiration date.
An investment container is a 'Cube', functioning similarly to a decentralised exchange liquidity pool. When users decide to invest, they'll need only opt for a particular cube, reflecting the strategies they believe will work.
Each cube includes an expected income without hidden fees or market mechanic manipulations. Within these cube profiles, an investor will be able to research and learn more about what the cube represents, ensuring that investors know exactly where they're investing their money.
A user will select one of the three cubes, add any parameters like expirations dates, then begin the cube's trading pathway. Over time, users may increase the amount of HYP tokens they entered into their initial investment to boost returns.
Currently, there are three main cubes, each representing a different strategy, risk, and predicted return:
Fixed Income
Algorithm Trading
Race Trading
Fixed Income Investment Cubes
Within this cube, an investor would get a fixed income on crypto assets or stablecoins. When selecting this cube, based on the amount of income return an investor wants, they'll be able to select a different expiration date.
Each cube offers information about its pay-back rules, early redemption fees, and how the staking programs used by this cube work.
Algorithm Trading Investment Cubes
Algorithm trading, based on statistical arbitrage, is what ignited this project. Nowhere is this more effectively used than within the Algo-trading cubes.
These cubes identify market discrepancies within leading crypto assets, then capitalise on them to secure higher returns. With years of forex, cryptocurrency pairs, and software engineering and mathematical experience going into these formulas, the HyperDex Algo-trading tool has been used for years.
Due to this, investing in these cubes will fully automate your investments, with the expert software tool calculating and investing automatically.
Race Trading Cubes
The Race Trading cubes will enable users to speculate on certain crypto assets' future outcomes based on a decentralised, trustless prediction market platform. Once a user predicts the future price, the Race Cube will automatically calculate all other necessary information.
By using this cube, HyperDex will suggest the user's stops, long/short position in the market and a leverage level based on the amount of risk selected by the user.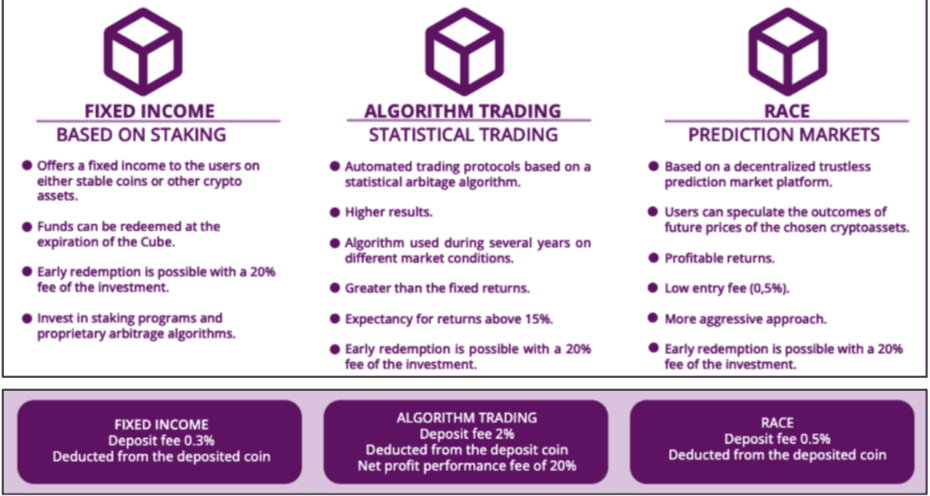 These cubes make HyperDex stand out from other DeFi asset management platforms currently on the market. Instead of requiring vast amounts of knowledge about DeFi, HyperDex makes the whole system straightforward. Without KYC requirements, this application opens the doors for investors worldwide.
HyperCubes
Building upon the three-cube system, users will also transform any of their cube investments into a HyperCube. Offering higher returns and additional rewards in the form of HYP tokens, these cubes can result in better profits for a user.
Users will stake anywhere between 10-100% of their original HYP investment to upgrade a cube. Upon doing this, the cube will automatically convert, doubling potential profits by paying out more HYP and increasing the chance of rewards on the base return.
Not only does upgrading to hypercube benefit the user, but it further boosts the entire HyperDex ecosystem. The increased liquidity of HYP once entered into the pool immediately boosts the price of HYP. So, while the user will receive an increased yield, the whole ecosystem will see the value of their HYP wallets increase.
Final Thoughts on HyperDex
Creating a robust DeFi management platform, HyperDex allows even beginner investors to get involved with DeFi. Removing the need for extensive knowledge of how DeFi works, they allow anyone – no matter their location, age, or social background – to begin their DeFi journey.
With solid future planning and a range of innovative investing features, HyperDex provides an excellent first step into the world of DeFi investing. 
This is an advertorial review and was not written by the InvestingCube team. Please note that trading in DEFI products could carry a high risk of capital loss depending on the product you choose. Do your own research.