The HSBC share price will be in the spotlight on Tuesday morning as investors focus on new activist pressure from Ping An. After falling slightly in New York, the stock rose by more than 1.85% in Hong Kong. It closed at 501p in London on Friday as investors reacted to its mixed quarterly results. However, the shares are still about 12% below the highest level this year.
Ping An calls to break HSBC up.
HSBC is the UK bank to watch after Ping An; a large Chinese insurer recommended that the bank should be broken up. The firm, which is the biggest insurance company in China, said that the company should break its western and eastern business operatives. HSBC will no longer be the biggest European bank by assets if the move happens. 
Ping An believes that the Asian side of the bank will be more profitable and have significant autonomy in how it makes decisions. However, it believes that its dual structure makes it difficult for the bank to make important decisions because it has to balance priorities of the western and Chinese governments.
HSBC has been caught in the middle of these in the past few years. For example, China criticised it for sharing information that led to the arrest of Huawei's CFO. At the same time, western governments have criticised the bank for human rights issues in China.
To some extent, breaking the bank apart makes sense since the company makes more than 50% of its income from Asia while its headquarters remain in London. Moreover, historically, such breakups have been good for shareholders since individual businesses can operate independently. The chart below shows the value of HSBC's customer accounts by region.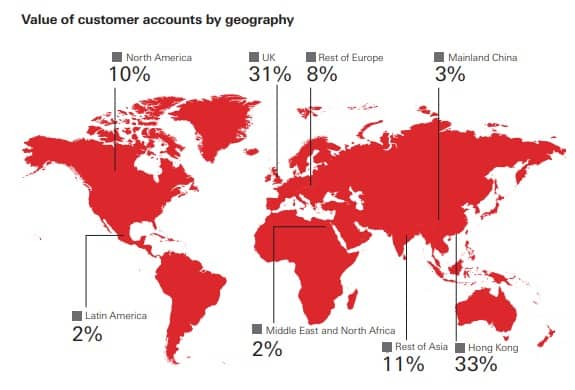 However, the cost of breaking up the bank could be significantly higher. It is unclear whether other large investors like Blackrock will support the measure.
HSBC share price forecast
The daily chart shows that the HSBC stock price bounced back after publishing mixed results last week. It is now above the important resistance level at 500p, which is slightly above the ascending trendline shown in purple. In addition, the stock is slightly below the 50-day moving average, while the Stochastic Oscillator moved slightly above the oversold level.
Therefore, the HSBC share price outlook is bullish, with the next key resistance level to watch being at 541p. A drop below the support at 480p will invalidate the bullish call.