HIGH crypto price surged hard on Monday, becoming the best-performing digital currency in the industry according to data compiled by Binance. Highstreet Market's crypto token jumped to $4.26, the highest point since April 25 of last year. It has surged by over 260% from the lowest point in 2022, giving it a market cap of over $37 million, making it a relatively tiny digital coin.
Highstreet Market is a metaverse project backed by the likes of Binance, Jump Trading, and Animoca Brands. It is a metaverse platform that integrates key concepts like NFT and commerce. According to its website, Highstreet Market runs an NFT marketplace that is built using Ethereum and BNB Chains. HIGH crypto price surged after the developers hinted that they had integrated ChatGPT into their ecosystem.
HIGH crypto price prediction
Turning to the daily chart, we see that the HIGH crypto price made a spectacular comeback recently. It jumped and reached the key important level at $4.226, the highest level since April last year. The token then quickly pulled back to the current level of $3, which was about 31% below the intraday high.
A quick look at volume flows shows that it jumped sharply and then quickly retreated, meaning that bulls are losing momentum. It is also a few points above the important resistance level at $1.86, the highest point on November 5. The coin has also jumped above the 25-day and moving averages while the Relative Strength Index (RSI) moved to the extremely overbought level.
Therefore, I suspect that the coin will have a bearish breakout in the coming days, which will see it retest the key support at $1.86. Historically, such parabolic moves tend to end with a major pullback. This view will become invalid if it manages to move above the important resistance point at $4.22, the highest point on Monday.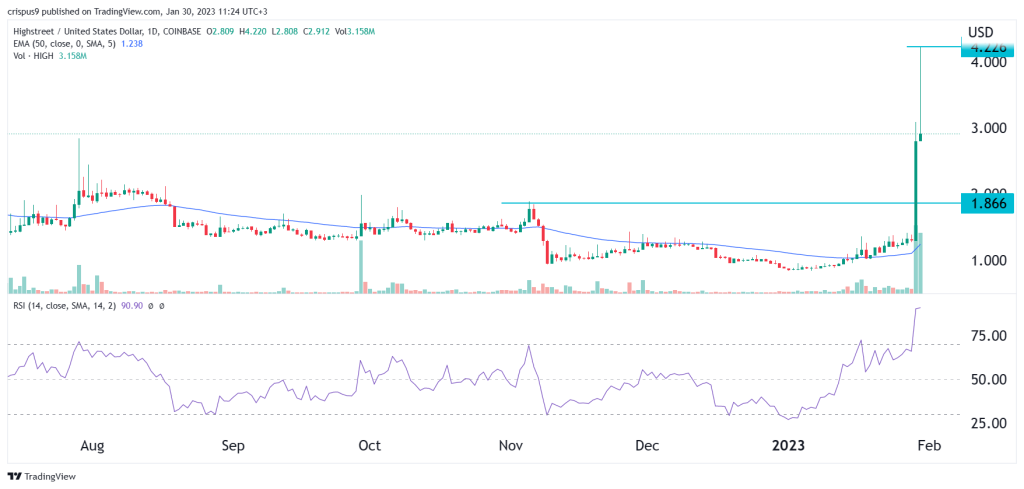 Highstreet Market crypto price forecast
Turning to the 4H chart, we see that the HIGH crypto price went parabolic. As it rose, the token moved above the upper side of the ascending channel shown in black. It has also moved above all moving averages and the parabolic SAR dots. The token then quickly retreated to about $3.
As such, I suspect that the token will likely continue falling as the bullish momentum wanes. In this chart, I suspect that the coin will drop to about $1.5, the upper side of the ascending channel.