Accenture share price crashed to the lowest level since March 2021 after the company published mixed results. ACN stock tumbled to a low of $262, which was about 37% below the highest level this year. As a result, its market cap has slipped to more than $175 billion.
Accenture dividend and share buybacks
Accenture is one of the biggest IT companies in the world. The firm provides consulting services to some of the biggest companies in the world. Some of its services are Business Process Outsourcing (BPO), application development, automation, cloud computing, and artificial intelligence among others. It competes with companies like Wipro, IBM, and Cognizant Technologies.
In a statement on Thursday, Accenture said that its revenue jumped by 15% in its Q4 to $15.4 billion. Its full-year revenue surged by 22% to more than $61.6 billion. Its EPS jumped by 17% to $10.7. At the same time, the company's free cash flow rose o $3.6 billion while the company boosted its forward guidance.
Most importantly, Accenture decided to hike its dividend by 15% and boost its share repurchases by $3 billion. A key challenge for Accenture is that it does a substantial amount of business abroad. As a result, it receives its payments in foreign currency and reports them in dollar terms. Therefore, the company reported a major impact on forex. It expects to have an FX hit of about 8.5% in the fourth quarter.
Accenture share price crashed as analysts warned about the company's guidance. Those at Jefferies. Cowen and Vital Knowledge worried that the company's forward guidance was not strong enough. There are also serious macro headwinds as the US dollar strength continues.
Accenture share price forecast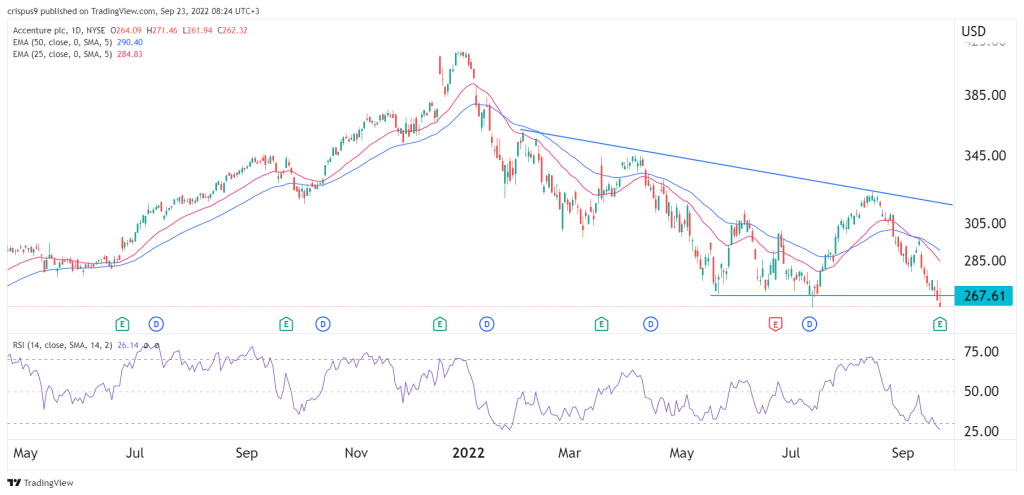 The daily chart shows that the ACN stock price has been in a strong bearish trend in the past few months. The stock has dropped below the descending trendline shown in blue. It has also moved below the 25-day and 50-day moving averages, while the Relative Strength Index (RSI) retreated below the key support level of $267. 
Therefore, there is a possibility that the Accenture share price will continue falling as sellers target the next psychological level at $250. A move above the resistance point at $267 will invalidate the bearish view.