The Helium price continues its unstoppable ascent skywards, but has the HNT token done enough for now, or are blue skies ahead? Helium (HNT) is trading at $31.85, +5.85% today, increasing its 7-day gains to +9.10%. HNT's current market of $3.22 billion ranks it as the 56th most valuable cryptocurrency ahead of Quant (QNT).
Helium is a decentralized network for Internet of Things (IoT) devices, which utilizes blockchain technology to allow wireless devices to communicate with each other. This year, the rise of connected devices, such as electric vehicles, has made IoT a popular investing theme.
As a result, the Helium price has trended higher throughout 2021 and has been less volatile (to a certain extent) than many altcoins. Subsequently, HNT has climbed 3,000% since the start of the year. But the question is, should investors take some money off the table or keep on HODL'ing?
HNT Price Analysis
The daily chart highlights the impressive Helium price action over the last week. Notably, buyers stepped in aggressively when the price pulled back to $26.822from the former all-time high of $32.29. Subsequently, HNT is testing the resistance of the previous high.
Undoubtedly, the performance is constructive and suggests Helium will punch through to a new record price soon. However, the Relative Strength Index reads 75.72, which signals the price is overbought. Nonetheless, HNT may still extend higher. Where to, is hard to say, although the $36.00-$40.00 range looks achievable considering the momentum.
But here comes the caveat! Whilst the immediate outlook is promising, chasing rallies in overbought conditions is dangerous. Therefore, if HNT makes a new high and extends towards $40.00, I would advise against FOMO'ing into the rise. Instead, traders should let the price normalize and, at the same time, wait for the RSI to consolidate. And whilst long-term, I am optimistic about Helium, I don't feel the current valuation is justified.
Helium Price Chart (daily)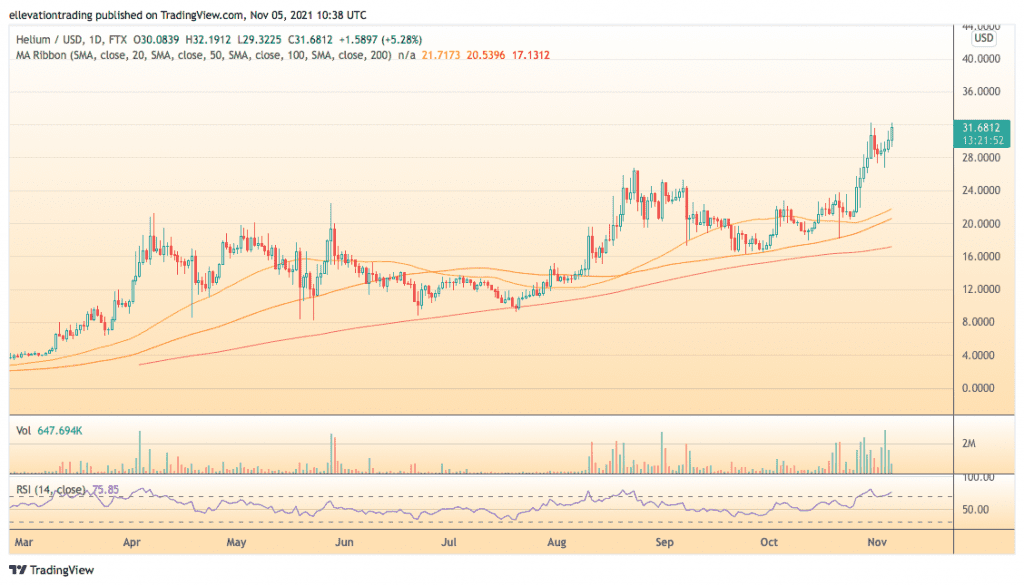 For more market insights, follow Elliott on Twitter.