Gold prices fell on Tuesday to 10-week lows as investors took positions to reflect the expectations of more aggressive tightening from the US Federal Reserve when it announces its latest interest rate decision on Wednesday, 4 May. The movement of gold prices in the last two sessions has fulfilled gold price forecasts of a drop in the XAU/USD pair ahead of the Fed's interest rate decision on 4 May. Consequently, the US Dollar is seeing heavier demand. Yields on the long-term US Treasury notes are also trading higher, as investors preferred the US-10 year note to the non-yielding yellow metal.
Investors expect the Fed to deliver a more aggressive 50bps rate hike to contain soaring inflation. Following the decision, Chairman of the Federal Open Market Committee (FOMC) Jerome Powell will provide his statement, which investors will peruse in search of clues for potential future hikes.
Gold price fell 1.72% on Monday and also started Tuesday's trading session on a negative note. However, the XAU/USD pair is currently off session lows after touching off the $1850 support level. The XAU/USD pair is now trading marginally lower as of writing, as traders book some profits from the fulfilment of the bearish gold price forecasts.
Gold Price Forecast
Any additional move to the south must follow a breakdown of the support at 1850.78 (16 November 2021 low and 16 February 2022 low). A successful breach of this level clears the path towards 1832.22 (24 January low). Below this level, additional price support points are seen at the 1800.34 psychological price mark (27 December 2021 and 4 January 2022 lows) and at 1780.00 (10 January 2022 low).
On the flip side, a break above 1877.76 (16 November 2021 high and 24 February low) creates a pathway towards 1900.76 (2 May high). 1918.68 (25 February and 29 April highs) and 1949.60 (2/17 March highs) are additional price target points to the north that become viable if any retracement to the upside breaches 1900.76.
XAU/USD: Daily Chart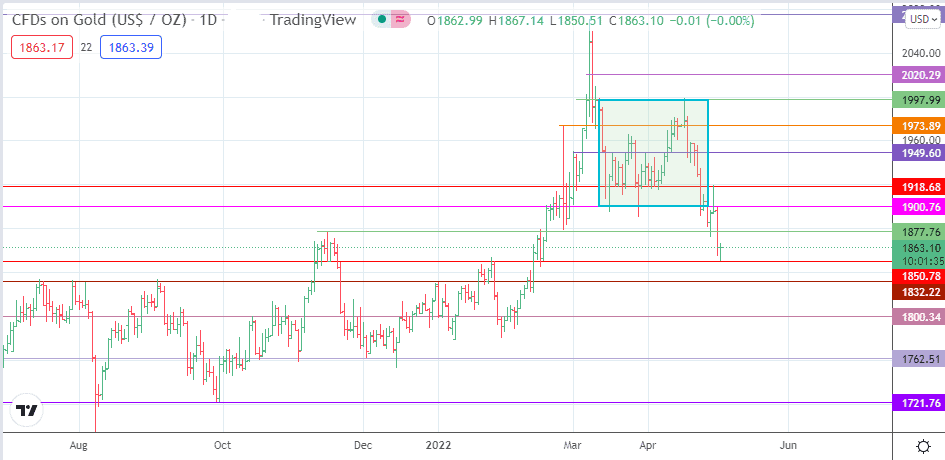 Follow Eno on Twitter.