GAS crypto price has beaten all the analyst estimates by a phenomenal surge in October and November. However, the digital asset is currently consolidating after a 15.19% pullback in last week. This also translates into a 71% drop from the monthly highs.
While most analysts have flipped bearish on the NEO GAS price, I believe there are still strong chances of a recovery. For this purpose, the price needs to behave in a particular way in the coming days.
On Monday, the recovery in Bitcoin price has led to modest gains in most altcoins. Gas is also showing minor gains on the first trading day of the week. At the time of writing, it is trading at $8.395 which is 0.1% above yesterday's close.
In my last analysis, I warned you guys about chasing the GAS crypto price pump as the move seemed to be manipulated. This analysis has proven to be true as the coin is now trading significantly below those levels. However, I still believe the market makers can push the price slightly higher before the bearish continuation.
To have a deeper understanding of the price action, let's perform a technical analysis on the GAS/USD 4-hour chart.
NEO GAS Price Analysis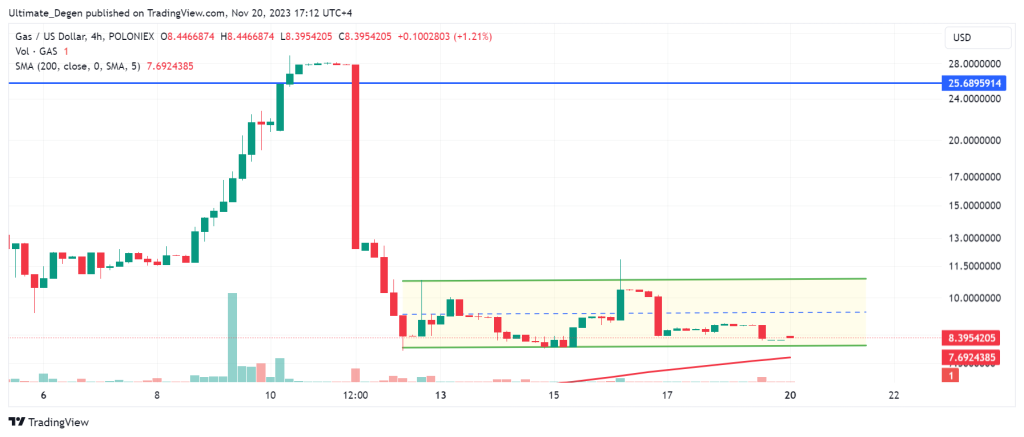 The reason why I think there is still a possibility of another upside push is because the daily market structure of GAS remains bullish. However, the price action has formed a lower low on the 4-hour chart which is quite concerning.
It is very possible that the price sweeps the range lows around $8 in the coming days and then reclaims this level. If this happens, then there could be another retest for the $10.75 soon.
However, in case of acceptance below $8, the GAS price prediction will take a bearish turn. The final line in the sand for many traders could be the 200 MA which lies around $7.73.
You can also follow me on Twitter to follow my personal crypto and stock trades.