The Fantom price is higher in early trading on Thursday and appears on track for its third consecutive daily gain. Fantom (FTM) is recovering from the weakness it saw earlier in the month and currently trading around 50% above last week's low.
The recent rally has lifted Fantom's market cap to over $6.5 billion, ranking the decentralized Finance (DeFi) platform the 34th-most valuable cryptocurrency behind Cosmos (Atom). Fantom's rise is partly due to the limitations and high transaction costs of the Ethereum network. Like Solana and Avalanche, Fantom's Total Value Locked is increasing as projects baulk at Ethereum's high gas fees.
Presently, the Fantom Blockchain has a TVL of 5.5 Billion and is the 6th-largest Defi blockchain. As a result of the platform's progress, its native FTM token has been a favourite amongst investors and gained 2,400% from July to set a record high of $3.6894 in October. However, since then, the Fantom price has been unpredictable, and by the 18th of October, it had given back around 50%. However, the price has shown signs of strength in the last couple of days, which could trigger a new bull run.
FTM Price Analysis
The daily chart shows the Fantom price is trending lower in a descending bull flag pattern. If FTM finishes the day above the channel's top at $2.6300, it will constitute a bullish breakout, potentially attracting momentum buying. In that event, an extension into the $3.5000-$3.6894 range looks likely.
However, until the price breaks above the trend resistance, the flag will dominate. Therefore, a failed breakout could result in a resumption of the downtrend. On that basis, my advice to traders is to wait until today's daily candle is completed before jumping to conclusions.
Fantom PriceChart (Daily)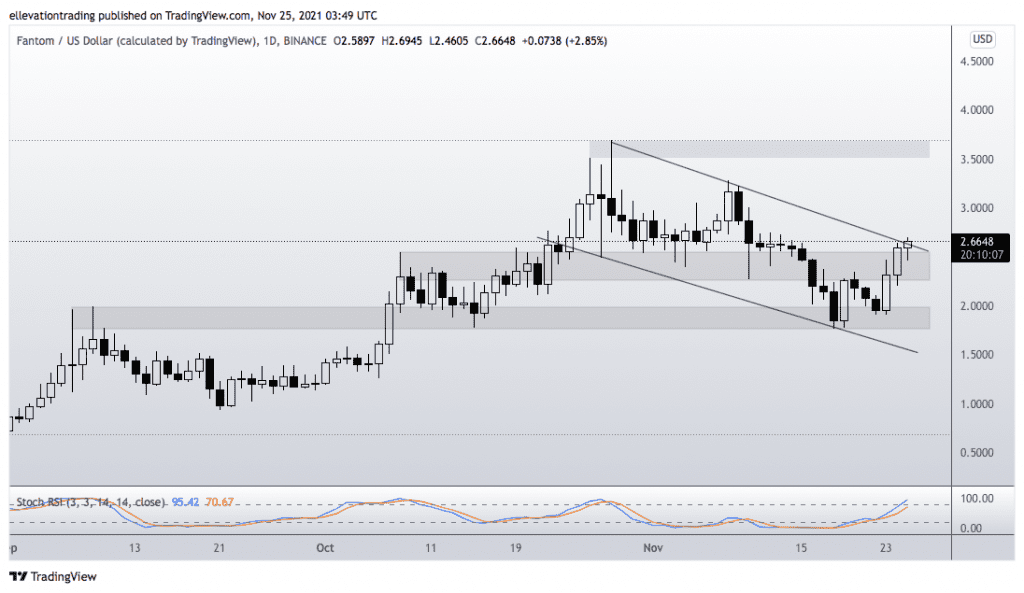 For more market insights, follow Elliott on Twitter.