The Evergrande share price is finding no bids as investors remain pessimistic in the company. The stock is trading at H$1.63 in Hong Kong, which is a few points above the year-to-date low of $1.41. The company still has a market capitalization of about H$21.52 billion, which is equivalent to about 3 billion USD.
Recent developments
Evergrande is one of the leading property groups in China. As you recall, the company moved into a distress zone in 2021 after the Chinese government announced plans to deliver the economy. Since then, other real estate groups like Kaisa, Roslnshine China, Shinsun Holdings, and Yuzhou have all struggled and could go bankrupt in the coming months. Similarly, home prices in China have had the biggest annual declines since 2015.
Evergrande is battling with its bondholders. According to the Wall Street Journal, it has more than $20 billion of international bonds outstanding, making it one of the biggest junk companies in the world. As shown below, the yield of the company's bonds has jumped sharply in the past few months. Yield has an inverse correlation with its price.
Evergrande bond yields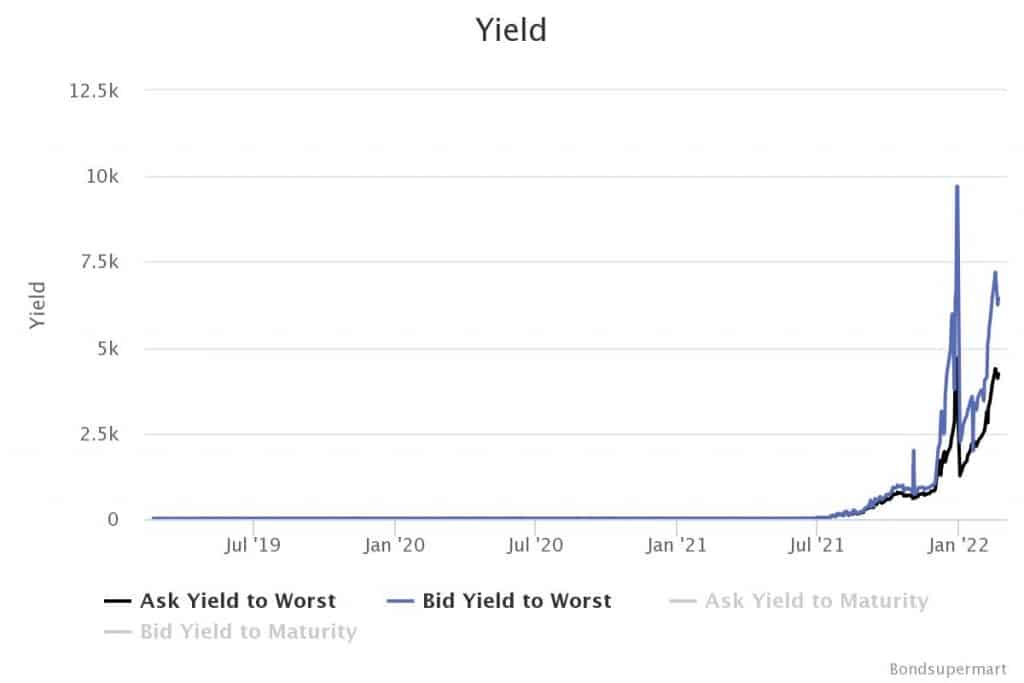 Will Evergrande recover?
The biggest question among investors is whether the Evergrande share price will ever recover considering that it has already defaulted on its obligations. For this to happen, investors will need to see a clear picture of the company's restructuring that has been going on for months. Earlier this month, the company said that it aims to have its restructuring proposals in the next six months. 
Still, because of how indebted it is and the fact that more bond maturities are happening, Evergrande has a lot of work to do. This situation is compounded by the fact that home prices fell in 2021 and Fitch expects them to fall by 3% and 5% in 2022 and 2023. The only bright side is that the country's economy seems to be firing on all cylinders.
Therefore, for now, it is hardly possible to see hopes in the Evergrande share price considering that its stock is also highly illiquid. If the recovery happens, it will likely take a few more years.
Evergrande share price forecast
The weekly chart shows that the Evergrande share price has been in a freefall in the past few months. The stock is currently trading near its all-time low. It has also moved below all moving averages, signalling that bears are now in control.
At the same time, the stock seems to be forming a bearish consolidation pattern that resembles a flag. Therefore, there is a likelihood that the Evergrande stock price will resume the bearish trend as bears' target moves below h$1.