The Eurasia share price is down 11.35% as of writing, after two days of weak gains gave way to relentless selling on Wednesday. On Tuesday, the selloff comes after US Senator Angus King introduced a bill to lock down more than $130 billion in Russian gold reserves. The bill seeks to sanction any American entities (individual or corporate) who sell gold in Russia, either electronically or physically.
Eurasia is a gold ore mining company listed on the FTSE 100. The Eurasia share price has had to deal with negative rumours since the Russian invasion of Ukraine piled pressure on mining stocks listed on the London Stock Exchange. However, at the start of March, the company refuted claims that its top executives and team members were selling off their stock holdings. Last week, it also issued a statement saying that its operations were insulated from Western sanctions.
The Eurasia share price fell 48.8% on the day President Vladimir Putin announced the invasion of Ukraine.
Eurasia Share Price Outlook
Wednesday's decline is challenging the 8.685 support level. If the bulls fail to defend this mark, the bears need to force prices below the recent lows at 5.500 to attain the 4.040 support level (30 October 2019 high). Below this level, the all-time lows below the 1p mark would beckon.
On the flip side, if the 8.685 support maintains its integrity, a bounce here could spur a move towards 14.235. Above this level, 19.105 and 23.070 are additional price marks to the north. Only when the latter is broken can there be hopes of a recovery towards the 28.955 resistance (17 January 2022 high).
Eurasia: Daily Chart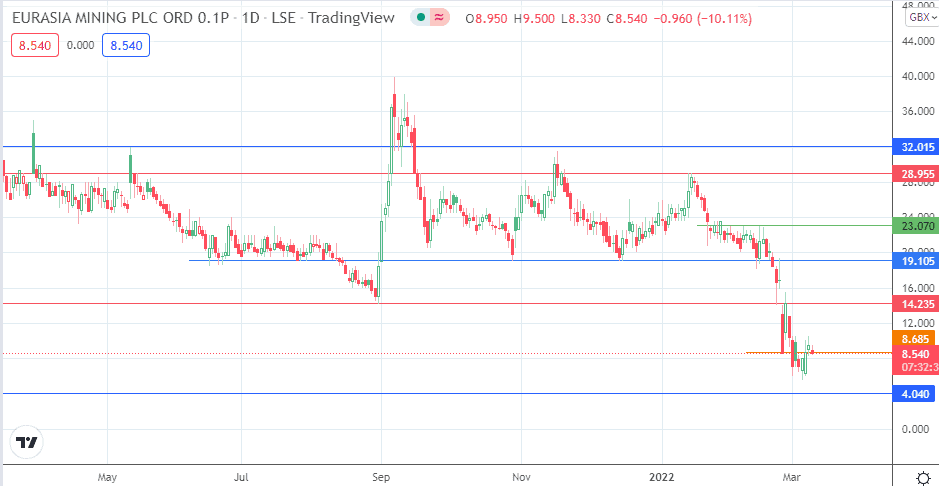 Follow Eno on Twitter.