The Ethereum price may continue to better its bigger rival as futures markets indicate a growing preference for ETH over BTC, says the bank. JPM's take echoes a report earlier this year from Goldman Sachs that said BTC is limited by its high energy use and Proof of work consensus. Furthermore, the GS report stated the evolution to Ethereum 2.0 and Proof of stake consensus could be the catalyst for Ethereum (ETH) to become a better store of value than Bitcoin (BTC).
As reported by Zerohedge, derivatives data shows that institutional demand for Ethereum has been strong during the recent downturn. As a result, ETH futures are trading at a premium to spot. On the other hand, Bitcoin futures are trading at a discount which suggests weak institutional demand. JPM analyst Nick Panigirtzoglou noted the disparities in the forward curves "points to much healthier demand for Ethereum vs Bitcoin by institutional investors."
As the above chart highlights, the Ethereum price has performed much better than BTC over the last five years. Furthermore, the outperformance accelerated during the previous 12 months as Decentralized Finance (DeFi) and Non-Fungible Token (NFT) projects flocked to Ethereum. Although the chart does suggest that ETH/BTC is looking stretched, the big boys don't see the alligator jaws closing any time soon.
ETH Price Forecast
If we look at the Ethereum price chart in isolation, it does show some interesting developments. Notably, this week's sell-off reversed from the support of the 100, and 200-day moving averages at $2,737, and $2,609, respectively. The subsequent bounce has lifted ETH toward what I consider to be a significant obstacle on the upside.
Above the market, the 50-DMA at $3,311 sits just below the former resistance band between $3,330 and $3,430. The lower edge of a rising parallel channel at $3,430 starting in July reinforces the resistance. Therefore, if ETH climbs above $3,430, the outlook becomes increasingly bullish. However, this view depends on Ethereum remaining above the major moving averages. On that basis, if the price closes below $2,609, the bullish sentiment flips to bearish.
Ethereum Price Chart (Daily)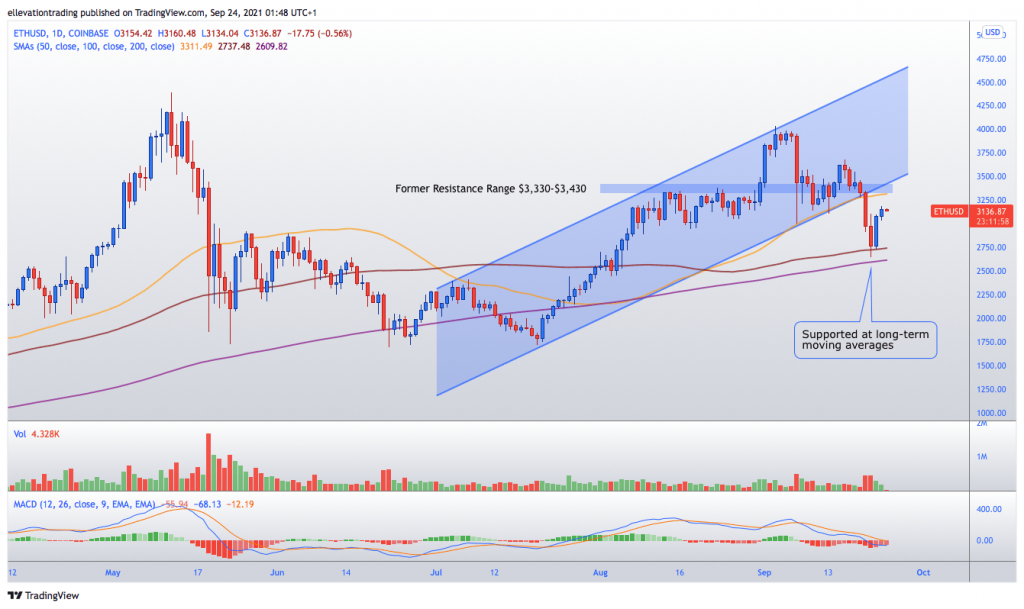 For more market insights, follow Elliott on Twitter.